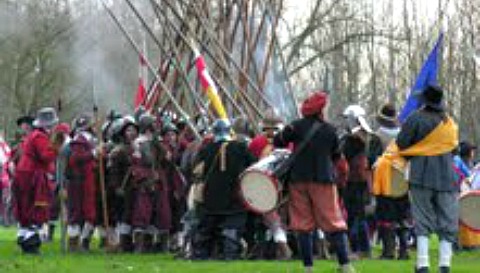 Organisers of  Nantwich's Holly Holy Day 2012 have unveiled a host of entertainment for January's annual celebration.
Willaston-based community group The Funky Choir will be one of many acts performing live in the town square to add to the atmosphere of the event.
Other acts will also be performing free of charge on Saturday January 21 as the town remembers the 1644 Battle of Nantwich.
School children will parade in historical costumes reflecting Nantwich's rich historical heritage, organised by of Crewe and Nantwich Weaver Rotary, supporters of Holly Holy Day.
Nantwich's new town crier John Parsons will also be in action along with X-Academy and Nantwich Players.
The entertainment will provide a backdrop to the main parade of Sealed Knot soldiers into town in their 17th Century costumes for the laying of wreaths.
The day climaxes with the re-enactment of the battle on Mill Island.
Organiser Shaun Cafferty said: "We are looking to provide a spectacular day with something for everyone.
"Although there will be a small admission charge for access to Mill Island where people can experience the battle re-enactment at close quarters, most of the entertainments being provided are entirely free of charge.
"It's a real opportunity for families and people of all generations from across the region to have a good day out in Nantwich, and it needn't cost them a penny!
"With things how they are at present, we are working especially hard to deliver some fun and colour and raise everyone's spirits a bit.
"Away from the square, there will be a musketry demonstration in the Museum, which will also house a war-gaming exhibition which was incredibly popular last year.
"We will also have performances from the 17th Century musicians, Forlorn Hope, and the Living History exhibition which provides a fascinating insight into ordinary life 400 years ago and always attracts big crowds.
"For the more active, there is a 'walk and talk' event led by the Battlefield Trust from Acton Church to the actual site of the battle, which will complete in time for participants to be back in town in time for the Mill Island re-enactment.
"We will be announcing further developments nearer the time and through our website www.hollyholyday.org.uk.
"But for now people should reserve 21st January and invite friends and relatives along – it's going to be a great day!"
Edward Timpson, MP for Crewe and Nantwich and Patron of Holly Holy Day, said: "It promises to be a great celebration of the event's 40th anniversary. I encourage the whole community to get involved in this marvellous occasion."
Volunteers are needed to help organise and raise sponsorship. Anyone interested contact 01270 842560.