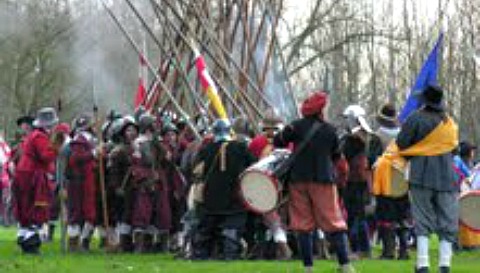 Organisers of the Holly Holy Day event staged to celebrate the 1644 Battle of Nantwich are gearing up for another massive event this weekend.
Full details of everything on offer this Saturday (January 21) have been released  as thousands are expected to flood into the town.
Members of The Sealed Knot Society provide the highlight of the day with a spectacular re-enactment of the Battle.
They will march down Welsh Row to the town square for a wreath laying ceremony at around 12.45pm.
The troops will then move off to Mill Island where battle will commence.
Many other groups, societies and organisations are also involved in the celebrations – the 40th year they have taken place in the town.
The Town Crier will be in full voice from 9.30am with PJ the Showman, X-Academy will perform live at 9.45am, and primary schoolchildren will have their "Nantwich Through The Years" competition at 10.15am.
Funky Choir perform at around 11am, with PJ the Showman entertaining audience after that until the Sealed Knot soldiers arrive.
Other venues hosting activities include Nantwich Museum, Nantwich indoor market, St Mary's Church, Nantwich Players in Church Well, The Pillory on Pillory Street.
There will be horses on parade, a hog roast, street entertainment, civil war tours from the museum, medieval music by Forlorn Hope in the church hall and much more.
Organisers are keeping a close eye on the weather to ensure the event can run smoothly.
Shaun Cafferty said: "The last two years were very cold, as it was for the original battle in 1644, and the biggest problem was looking after the performers on the stage in the morning – it can be hard to play a musical instrument with numb fingers.
"The Sealed Knot soldiers will perform in practically any weather conditions though, and many of them will be travelling long distances to do so. In the past we have seen contingents from as far away as Cornwall and Aberdeen.
"We will just need to keep an eye on the level of the river and the ground condition of spectator areas, but this is something we have worked with safely and successfully in the past, and can adjust to. We will be keeping our fingers crossed anyway!"
For all the details visit www.hollyholyday.org.uk