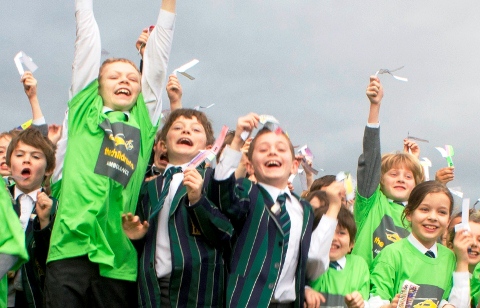 A pub in Nantwich has been helping to launch a new helicopter transfer service for seriously ill children.
The Horse Shoe Inn, in Willaston, held a quiz night that raised £120 for The Children's Air Ambulance.
The Robinson's pub, run by landlord Shaun Newhall, intends to help the charity with fundraising over the next year, culminating in a large vintage car show planned for 2013.
The Children's Air Ambulance will take young patients and expert medical teams from hospitals to specialist units around the country to get the best care as quickly as possible when it takes to the skies later this year.
The new nationally co-ordinated service will be based at Coventry Airport. One flight could take a sick child to the centre of London from Nantwich in just 45 minutes.
David Reeves, Children's Air Ambulance fundraising manager for Cheshire, said: "I can't thank Shaun and the customers at the Horse Shoe enough for their support. We rely on the generosity of amazing people like them to help fund our helicopter transfer service that will launch later this year.
"Fundraising isn't about raising thousands of pounds at a time – small events like quizzes raise hundreds of pounds and collectively contribute huge amounts of money towards funding our service this year."
The Children's Air Ambulance receives no government or national lottery funding and relies on public donations to support the service which goes live at the end of this year.
For more details on how you can save young people's lives, visit www.thechildrensairambulance.org.uk or contact The Air Ambulance Service on 08454 130 999 or email [email protected]