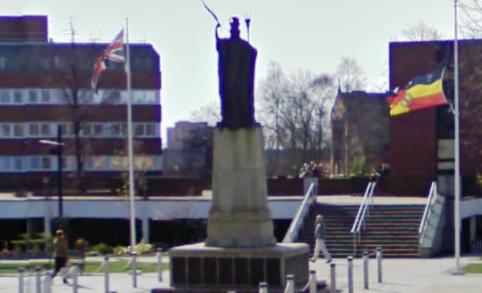 Thieves stole from a South Cheshire War Memorial just yards from a police station and magistrates court.
Shocked officers and councillors have blasted the "mindless" thugs who targeted the memorial on Municipal Square, Crewe.
They prised away nine brass hooks which are used to hang wreaths placed in memory of those from Crewe, Nantwich and surrounding villages who lost their lives fighting for their country.
PC Mike Rushton said: "It looks like they have also attempted to take a number of other hooks which has caused some damage.
"We would appeal to those who may have seen the act taking place to do the right thing and call us.
"The war memorial represents those from the town who have given their lives fighting in wars to protect us.
"Many will have brothers, sisters, uncles, aunties, mothers, fathers or grandfathers who were killed in action in wars spanning decades and will be deeply saddened by this selfish and mindless act.
"The brass hooks will have little value to the thieves, but the impact on the community is far greater because of what the memorial represents."
Leader of Cheshire East Council Cllr Michael Jones said: "I deplore this act of vandalism and sheer disrespect for the people who gave their lives for us.
"We are extremely proud of our towns and villages and we want our residents to feel the same about them as we do.
"Our staff do a marvellous job in keeping the Municipal Square tidy − what a shame it is that a minority see it fit to bring the area down."
The theft occurred between April 1 and June 20 this year.
Witnesses can contact PC Mike Rushton at Crewe Neighbourhood Policing Unit on 101 quoting incident number 566 of 20 June 2012, or call Crimestoppers anonymously on 0800 555 111.