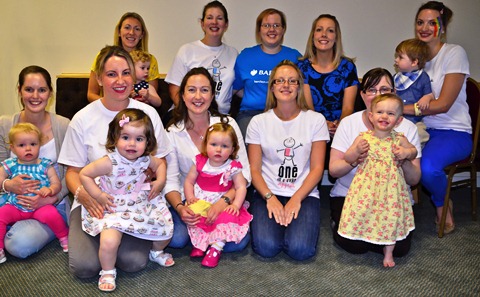 Babies boogied on down at a charity disco in Nantwich for the One in Eleven Appeal.
Around 60 children, from tiny tots to toddlers, and their families hit the dance floor at Nantwich Town FC.
They enjoyed entertainment from Cheshire company My Baby Time, stalls, a raffle and balloon modelling.
The event raised around £870 for the appeal, which aims to create a new neonatal unit at Leighton Hospital.
Barclays Bank has also match-funded £750, taking the total to £1,621.
Organiser Caroline Lowther, 33, from Nantwich, said: "The children really loved it. My Baby Time were fantastic leading the children through different songs using instruments, movement and puppets.
"It was great for babies' eye tracking and social skills, and good fun!"
The Mid Cheshire Hospitals Charity One in Eleven Appeal aims to raise £1m to expand the neonatal unit and enhance facilities, providing more space and comfort for families during difficult times.
Caroline also runs Buggy Buddies, a parents group which meets in Nantwich and raises money for the appeal.
She started fund-raising after giving birth to her daughter Isla in Leighton Hospital in November 2010.
Caroline said: "When I had Isla I met a mum whose baby was on the neonatal unit and I realised not everyone was as lucky as me.
"It really stuck with me and I was so grateful my baby was healthy I wanted to do something to help the hospital.
"Buggy Buddies started with a couple of mums and now there are 20 or more who meet every week."
Buggy Buddies has raised around £4,495 since it started in early 2011, through raffles, weekly walks and the baby disco.
Raffle prizes have been donated by local businesses including The Globe in Nantwich, The Badger at Church Minshull, and JJ Studios Nantwich.
To find out how you can support the One in Eleven Appeal call fundraising manager Laura Bailey on 01270 273248.