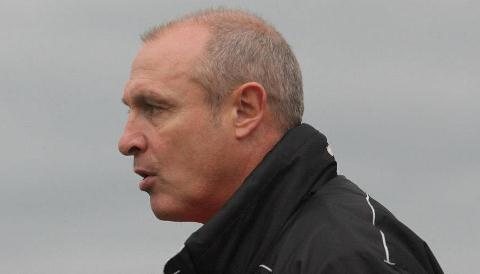 By Ashley Houghton
Nantwich Town boss Jimmy Quinn lamented his side's defence as they lost their first away game in seven at Frickley Athletic.
The Dabbers lost 3-0 to The Blues who scored all three goals in the first half through Luke Hinsley (2) and Gavin Allott.
After seeing his side fall behind after just 74 seconds, Quinn said the players owed more to the travelling Dabbers faithful.
He said: "We owe our supporters more than that and we'll start with a home win on Saturday.
"The fans were fantastic again and didn't stop getting behind the lads even when we were three down."
Quinn was infuriated by his side's silly errors as they fell three behind in a half they dominated.
"We've got a problem with teams that are physical against us and that's not the first game that's been the case," he added.
"To be honest they showed great appetite to do the right things, they got about us and our lads up front hardly had a kick they were that tight.
"I have to say the goals that we gave away were disappointing, one was a mistake by Lewis (Short) and the other two were just straight balls knocked over the top and we couldn't deal with them."
After Short's error which allowed Hinsley to open the scoring,  Nantwich almost replied but Sean Cooke's effort from inside the area was well saved by Tom Woodhead.
Just after the quarter hour mark, Matty Bloor fed Hinsley again and he made no mistake with a finish from the corner of the area.
Nantwich continued to press but the game was beyond their reach five minutes from half-time as Terry Barwick's clearance fell invitingly for Allott who gave the hosts a comfortable 3-0 advantage.
Cooke and Christian Smith went close in the second-half but neither forced saves from Woodhead as their shots from range fired over.
"We've conceded a lot of soft goals all season," Quinn added.
"I think we're too nice at times and we need to toughen up and demand a little bit more out of each other.
""That's about four or five games I've counted this season where we've conceded one goal and then conceded another goal within minutes.
"That tells me there are two things happening, either we're looking round blaming someone else or we're not concentrating."
The former Northern Ireland international added that next weekend's derby with Stafford Rangers couldn't have come at a better time for the lads to bounce back and toughen up in front of the home faithful.
"The sign of a good team is how you bounce back, we've been very disappointing today particularly the defending, you stand there with disbelief at times with the goals we concede."
Nantwich: Brain, Cardon, Short (Smith, 45), Hughes (Moss, 69), McDonald, Cooke, McLachlan, Everall, Wilson, Maguire (Lane, 61). Subs: Campbell, Ambage.