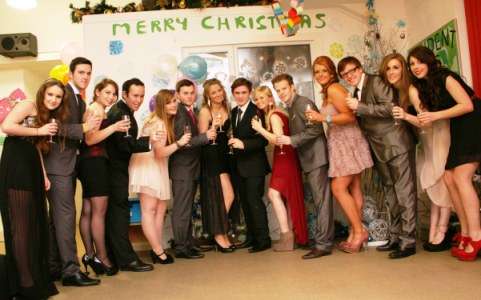 Students at Reaseheath College in Nantwich finished their term in style with a festive Christmas Ball.
Four hundred students partied the night away at a black tie disco in the student bar at the specialist land-based college.
The ball and sit down meal was organised by members of Reaseheath's Student Association.
Student Association President Sophie Pegg, 21, said: "It was a typical Reaseheath fun night and everyone partied until late.
"The ball was a complete sell out. Everyone seemed to enjoy themselves and we had great feedback. It was a great way to finish the term."
Staff and students got into the Christmas spirit earlier in the week with a carol service in Reaseheath's historic Main Hall.
Pictured are…
– Student Association president Sophie Pegg.
– Student Association members Katie Gibson, Sam Norfolk, Adrianne Grant, Ben Lloyd, Amy Knight, Connor Maynard, Vicky Bloor, Luke Evans, Sophie Pegg, Matt Brown, Imogen Johnson, Paul Roberts, Ceara McDermott, Katie Almond.
– Student Association FE board representative Amy Knight, 20, with snowman.
– RAG chairman Matt Brown, 25, with 16-year-old Luke Evans, Student Association under 18s rep.
– Student Association vice president Imogen Johnson, 19, with Christmas parcel.
– Student Association secretary Paul Roberts, 18, and sustainability rep Ben Lloyd, 25, take on press officer Vicky Bloor, 19, and social secretary Katie Almond, 20.