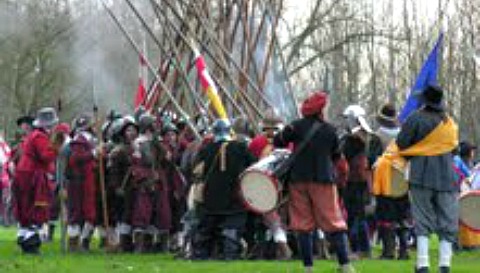 The Holly Holy Day Society is putting together the final plans ahead of this month's "Battle of Nantwich" on January 26.
It promises to be another action-packed event with the Sealed Knot's re-enactment of the 1644 battle on Mill Island the highlight.
There will be a parade by mounted troopers taking place down Welsh Row from about 1pm before the battle scenes on Mill Island.
But there will be activities from 10am throughout the day in the town.
The Domesday Morris dancers will be performing throughout the town during the morning.
There will be a Living History demonstration on the Parish Hall lawn by the church.
This recreates many aspects of 17th century life for people to see how their ancestors lived and played
17th century musicians will be playing in the parish hall in the morning, with authentic 17th century instruments and tunes.
A Musketry demonstration will take place in Nantwich Museum, and The Funky Choir and X-Academy will both be performing live on stage on Saturday morning .
Nantwich Players will be staging a period tableau, including use of the town's Pillory.
The Holly Holy Day Society works with the Sealed Knot and Rotary to stage the event every year.
For those who want to get close to the re-enactment, tickets for admission to Mill Island will be £1 children, £2 adults, £5 family ticket – 2 adults, 2 children.
Tickets available on the day at the entrance to Mill Island. For details visit www.battleofnantwich.co.uk