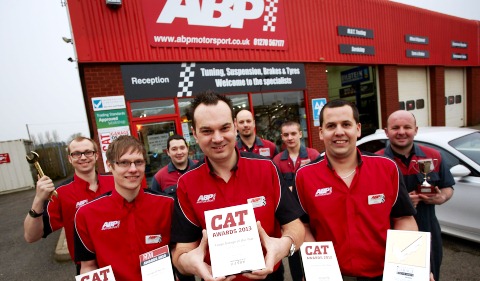 Staff at a South Cheshire garage are celebrating after scooping a national award for the fourth year running.
ABP Motorsport, on Newcastle Road, Shavington retained its crown as "Garage of the Year" and beat rivals across the country in a new category for large garages.
It was honoured in the Car and Accessory Trade (CAT) national magazine awards which asked readers and garage customers to vote for industry champions.
"Large Garage of the Year" was the top award presented at an Oscars-style event at Twickenham Stadium in London.
Leading motor industry experts attended with guest of honour Secretary of State for Business, Innovation and Skills MP Vince Cable.
Organisers said ABP's votes ran into thousands with customer comments including "brilliant staff," "totally trustworthy" and "first class in all respects".
ABP managing director Chris Meredith, 39, said: "Winning for four consecutive years is unprecedented and this year it is even more of a staggering achievement as we were placed against the 'big boys' in the Large Garage category.
"When we heard the categories were being split into Small and Large, and we were placed in Large, we thought we didn't stand a chance, as we are pretty small in comparison to many of the larger national entrants.
"So I went along to the awards ceremony not expecting anything at all and couldn't believe my ears when our name was called out."
It's the fifth national award in four years for the garage which employs nine staff and has been based in Shavington for almost 50 years.
Father-of-two Mr Meredith, who took over ABP five years ago after working as an employee for 19 years, added: "To win all these awards is brilliant… but we never rest on our laurels and always strive to provide an even better service."