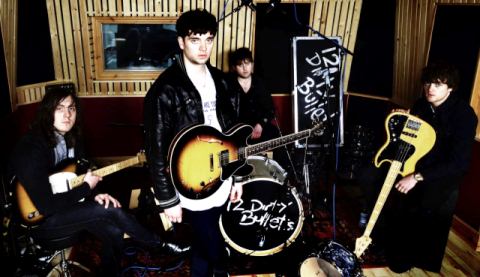 Indie rockers 12 Dirty Bullets will bring their explosive set out of the capital to The Box in Crewe on March 22.
The band are on the road again after their first successful tour saw them take on 50 dates in the US tour over more than two months.
12 Dirty Bullets' success is not only stateside but on their home turf as well.
The band started picking up support in their home of north-west London in 2009.
Their fans helped fill often riotous gigs and several memorable midnight shows at Camden's KOKO.
It's hard not to see why anyone would not be fans of 12 Dirty Bullets' signature guitar attack and lead singer James Jamiesons's lyrical vision.
Jamieson has had the songwriting bug since he was seven when he first started listening to Squeeze.
"That's where the love of lyrics and story-telling is from," he said.
Then Oasis became James and Josh's early idols.
"It was their belief in a great song, not trying to chase a sound or the back of a scene."
Another influence for 12 Dirty Bullets was American outsider, musician and schizophrenic Daniel Johnston.
James add: "He changed everything for me.
"He was the first guy that I got into that had struggled all his life, with health, with love, and with his music, but still pursued it our of pure love of art.
"It hammered home to me that this isn't about the glam and the money; this is about creating something that is beautiful.
"Even now, he's at the forefront of my mind."
Support for this show comes from Crewe bands Breaking Glass, Interception and Till The Fall.
Tickets are £5. For more details visit www.theboxcrewe.co.uk