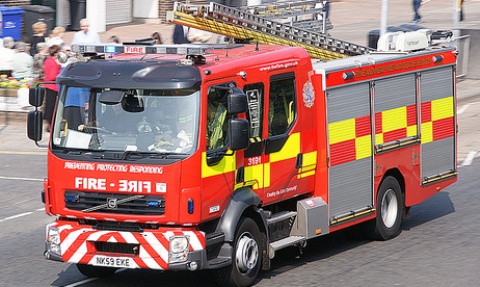 A shed fire which spread to a neighbour's garage and campervan on a Nantwich street, was caused by an electrical fault, according to police.
Residents emerged from their homes on Birchwood Drive, near the Barony, to watch as fire crews battled the blaze.
Crews from Nantwich and Crewe were called out to the fire which they say started in a resident's garden shed.
It quickly took hold and spread to a garage at next door's property. Flames badly damaged a campervan parked inside the garage.
Four firefighters wearing breathing apparatus used three hose reels and one covering jet to tackle the fire at around 9.30pm last night (Tuesday April 16)
Officers isolated  gas and electricity supplies to prevent explosions.
A thermal imaging camera was used to check if the fire had spread to the neighbouring property's attic space.
Firefighters continued to dampen down and removed the camper van out of the garage.
Cheshire Police were called to investigate the cause but later found the fire was started accidentally.
A police spokeswoman said: "It appears to have been started when a car battery was left being charged and there was an electrical fault."
No one was  injured in the incident.