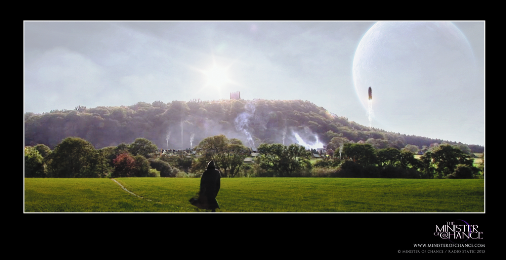 Picturesque venues near Nantwich could soon feature in a new movie blockbuster.
A production company has shunned Hollywood and Pinewood to make its latest film, The Minister of Chance, in Cheshire.
Radio Static is the pioneering firm behind the film based on a cult internet series starring Philip Glenister, Jenny Agutter OBE, Paul McGann, Sylvester McCoy, Tamsin Greig, and Jed Brophy.
The podcast series collected rave reviews along with nominations from the BBC and the USA Parsec Awards.
Now executive producer Clare Eden is keen to set the film around the Cheshire landscape and locations that first inspired writer and director Dan Freeman.
The idea to use Cheshire came from a New Zealand connection. The Minister of Chance has cast members Jed Brophy and Sylvester McCoy in common with The Hobbit movie.
Kiwi Brophy, who stars as Dwarf Nori in The Hobbit, spoke about how director Peter Jackson had turned down Hollywood and chosen instead to make the films in his native New Zealand.
Visitor numbers to the country doubled and the economy received a massive boost.
"That's exactly what we want to do with Cheshire," said Freeman.
"We've got the stunning locations, transport links via Crewe and Manchester Airport, and a wealth of production staff now living in the area following the development of TV centres in Salford and Liverpool.
"We don't need sets – we've got the history! There are three castles here within a mile of each other."
The original series was funded by fans, and the film is following a similar route, stunning the film industry by raising over £7000 in just three weeks through its 'Chanceshire' campaign.
Fans can buy props, merchandise, and unique experiences, with profits funding production.
Cheshire businesses believe the film will boost the local economy.
Jonny Kershaw, of Peckforton Hills Spring Water, said: "It's very exciting – I'm behind them all the way.
"It should do a lot of good for the area. I've got my eye on Paul McGann's costume to hang in the office!"
Dilys Willis, from Cholmondeley Castle Gardens, said: "It looks absolutely fantastic. Let's hope it puts Cheshire on the BIG map!"
The original series of The Minister of Chance is free to download from iTunes or from www.ministerofchance.com, where fans can also get involved in the film campaign.
(pics courtesy of Radio Static)