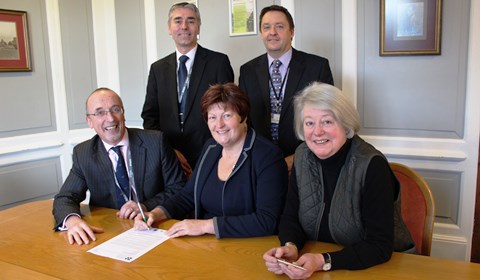 Nantwich-based Reaseheath College has acquired a specialist private training provider.
DART Training is based in Derbyshire and works with small and medium businesses throughout the Midlands.
The company will become a wholly owned subsidiary of Reaseheath but will operate as an independent arm of the college.
DART works with young people and employers to provide tailor-made training in the workplace in industries such as horticulture, agriculture, horse and animal care, veterinary nursing, sports turf, environmental conservation and arboriculture.
The college has invested over £40 million into industry standard technical and educational facilities on its Nantwich campus over the past six years.
Welcoming the merger, Reaseheath Principal Meredydd David said: "DART is highly respected by employers and has a great reputation in Derbyshire and surrounding counties. It also has a very good Ofsted report.
"Reaseheath and DART have a great synergy. Both organisations share the same values, education and training focus and both are highly respected within the land-based industry.
"Our mission values and philosophy are closely aligned and we are equally passionate about the education and training of young people and adults.
"This is a great opportunity for both Reaseheath and DART to work together to sustainably grow and expand our training offer, penetrate new markets and develop a long lasting, successful future.
"This partnership will give us the chance to significantly enhance our educational and training offer."
DART managing director Anne Morgan said: "Our new partnership with Reaseheath will give us a vastly increased range of training and further education opportunities to offer to the land-based sector.
"We are now confident we can expand even further into new markets beyond our traditional geographic operating region."
(Pic: Reaseheath Principal Meredydd David and DART managing director Anne Morgan with Reaseheath's director of finance Graeme Lavery, vice principal Dave Kynaston and chair of governors Emily Thrane)