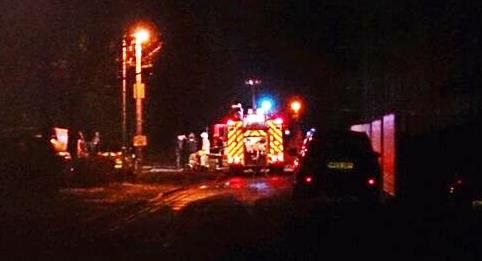 A car which exploded and burst into flames on a Nantwich car park could be suspicious, police said.
The fire and blast happened on the rough ground car park on St Anne's Lane, off Welsh Row.
Police and fire crews are at the scene, but it's believed no one was hurt in the incident tonight (Sunday February 16).
These pictures were sent in by Nantwichnews readers close to the scene as fire crews cordoned off the area.
Many people in bars and restaurants along Welsh Row and residents living nearby heard the explosion.
One eyewitness told us on Twitter: "I heard explosions go off, then looked outside and a large fire broke out on St Anne's car park. Fire brigade got there in time."
Another tweeted: "Possibly car involved as car horn was going off for at least 15 minutes. Hope no one is hurt!"
A spokesman for Nantwich Police said: "It's a car fire which has caused the explosion.
"We're not sure at this stage what has caused it, but it will be treated as suspicious until we have evidence to suggest otherwise.
"It involved a stationary vehicle on the St Anne's Lane car park near the wooded area. No one was in the vehicle and there are no injuries."
(pics courtesy of Nantwichnews readers)