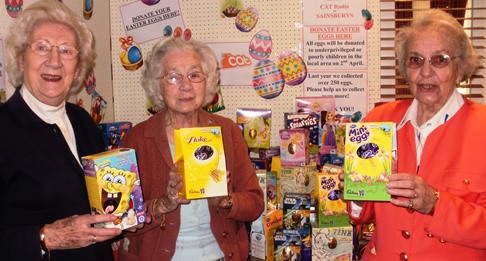 Richmond Village Nantwich and The Cat community radio station have teamed up to help spread some Easter cheer.
Sainsbury's of Nantwich and Custom Powders in Crewe have also joined in to help run the annual Easter egg appeal.
Now in its fourth year, the appeal gets bigger and bigger collecting hundreds of eggs which will be donated to youngsters across South Cheshire.
Alison Harding, Richmond Village adviser, said: "After launching our first appeal in 2011, I am thrilled it is still an annual event which is so well supported by our residents and local community. Our reception is always brimming with Easter eggs come Good Friday.
"We have been working in conjunction with The Cat Community Radio since the outset and have been joined by Sainsbury's Nantwich who will also host a collection point at the front of their store.
"We are hoping lots of people including local businesses will once again support this appeal."
For more information contact Alison or Nicola at Richmond Village Nantwich on 01270 629080.
(Pic: Richmond Village residents Joan Freeth, Betty Woodward and Mary Davies)