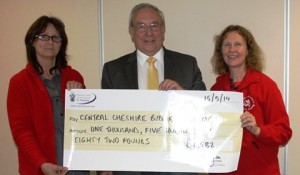 A new scheme to highlight the growing problem of hate crime in Cheshire has been awarded funding.
The Central Cheshire Buddies Scheme wants to raise awareness of hate crime through a project called "This is Me".
So they applied to the Crime Prevention Fund and were awarded more than £1,500 to help deliver the idea.
They hope "This is Me" will help Cheshire Police & Crime Commissioner John Dwyer to encourage more victims to report hate crime in the county.
Central Cheshire Buddies Scheme works with disabled youngsters in Cheshire East, some of whom have experienced prejudice, hostility and hate crime.
"This is Me" will provide a programme of support which will educate young people about hate crime and how they should respond.
Mr Dwyer said: "I have a zero tolerance approach to hate crime and I think we're only aware of the tip of the iceberg with regards to incidents.
"I think the work being done by this organisation is fantastic as they will not only work with the young people and build their confidence but also help to educate and encourage them to report any incidents that occur."
Stephanie Lawley, from the Central Cheshire Buddy Scheme, said: "We will be working in partnership with MMU Cheshire to develop dance, drama, music and art to express the young people's feelings.
"The result will be a video to raise awareness of disability hate crime."
Information about reporting hate crime can be found here.