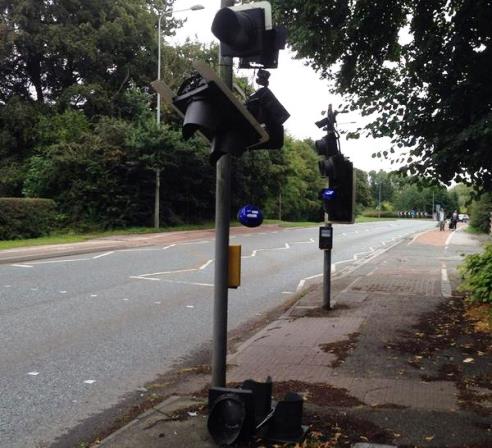 Residents in Reaseheath near Nantwich are demanding action to repair a busy A51 crossing which was smashed up in an accident.
The traffic lights on the main Nantwich to Chester route near Reaseheath College were left out of action for three days.
It's not clear what caused the damage, shown by these pictures taken by local resident Vicky Higham.
But residents say it is now too dangerous o cross the busy A51 without them.
Vicky tweeted: "They are still not fixed and speeding traffic means it's impossible to cross the road.
"I'm not too sure how they were damaged. I went out at around 5pm earlier this week and they were swinging in the breeze!"
Two sets of lights on the right-hand side of the crossing going into Nantwich were destroyed in an accident or possibly by vandals.
Another resident Jonathan Bradley tweeted: "It's been crazy recently. Glad no one was stood at the lights when it happened.
"This road is supposed to be 30mph. Traffic doesn't seem to realise this."
Nantwichnews contacted Cheshire East Council highways team @CECHighways yesterday (August 27) and today, and we are still awaiting a reply.
(Pictures courtesy of Nantwichnews followers on Twitter)