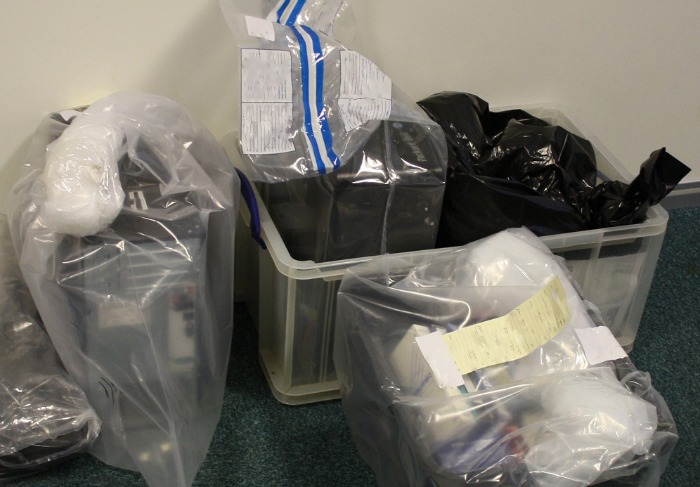 Thirteen men were arrested across Cheshire today in a major operation targeting suspected online paedophiles.
Police targeted those believed to be involved in uploading and distributing indecent images of children on the internet.
The arrests were made between 6.30am and 8am after a police investigation and intelligence identified suspects in Crewe, Middlewich, Sandbach, Winsford, Chester and other towns.
Officers also seized computers and other devices which have internet access.
Detective Superintendent Geraint Jones, who led the operation, said: "Cheshire Police take the issue of indecent images of children extremely seriously.
"We will do everything possible to bring offenders to justice.
"We have a dedicated Paedophile and Cybercrime Investigation Team who are fully committed to tackling this issue, with specialist officers who are trained to adapt to the constantly changing methods of online criminals.
"Behind every indecent image is an abused child and sharing such images online is illegal and results in further abuse.
"The operation has used the most up-to-date technology and intelligence to identify suspects, and this technology will continue to be used throughout the course of the investigations."
The suspects are now being questioned by specialist officers from the team.
Cheshire Police would like to remind the public that they can report any online illegal activity by calling 101 or anonymously to Crimestoppers on 0800 555 111.
A full list of those arrested include:
A 67-year old man from Crewe
A 24-year old man from Sandbach
A 63-year old man from Middlewich
Four men aged 51, 42, 29 and 20 from Chester
Two men aged 46 and 40 from Winsford
A 68-year old man from Knutsford
A 43-year old man from Widnes
Two men aged 46 and 36 Ellesmere Port