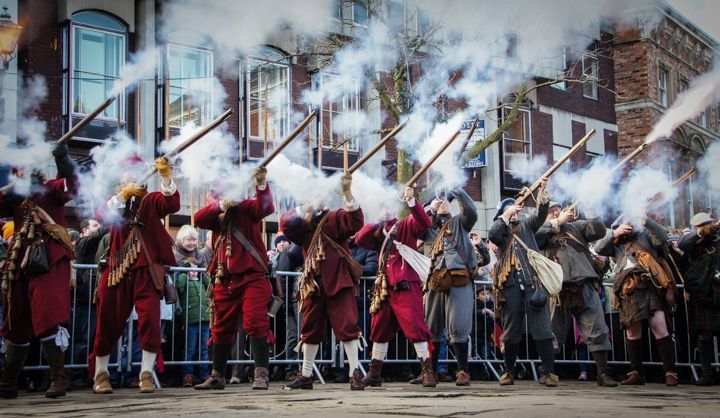 Thousands poured into Nantwich to enjoy the Battle of Nantwich & Winter Fayre in the town centre and Mill Island, writes Jonathan White.
And organisers The Holly Holy Day Society  say the event, held in conjunction with the Sealed Knot society, was one of the most successful ever.
It was the 43rd time Holly Holy Day re-enactment has taken place, and was the 371st anniversary of the original battle, which took place on January 25, 1644.
It traces back to the 17th century and the four-year long first English Civil War between Parliamentarians (Roundheads) and theRoyalists (Cavaliers) loyal to Charles I.
A variety of events took place in Acton and around the town during the day with a parade from Malbank School and at Nantwich Market Hall, St Mary's Church, Nantwich Museum, Pillory Street, the Town Square and Mill Island.
There was entertainment from The Funky Choir, Domesday Morris Dancers, Ezra and the Plough Witches (Wistaston Young Drama Group), RedShift Radio, Nantwich Players and Mark Brisbourne.

There was also face painting, a Living History demonstration, and a horse parade.
The museum held Civil War Tours, a musketry demonstration (led by Sealed Knot), children's entertainment and music from Forlorne Hope.
There was also a wreath-laying ceremony at the war memorial on the town square to commemorate people who died in the Civil War Battle of Nantwich and other battles.
The 1644 battle was re-enacted on Mill Island, followed by Mayor of Nantwich, Councillor Christine Farrall presenting the Rose Bowl to the best regiment.
Applewood Independent were the main sponsors this year.
See our Picture Special, below:
(Photos courtesy of Jonathan White, Jan Wilson of Brackendale Photography, Paul & Denise Compton of PD Photography, and Simon J Newbury Photography)