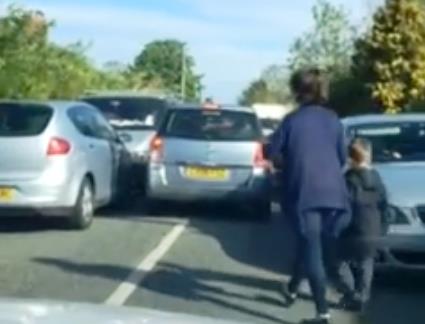 A new car park designed to tackle traffic chaos outside a Nantwich primary school will be built this summer.
That's the pledge of Cheshire East Council after footage revealed by Nantwichnews showed parents and children dicing with death trying to get to Stapeley Broad Lane Primary on the A529 Audlem Road.
The narrow road and narrow footpath on one side causes a bottleneck at peak times as parents park to drop off and pick up their children.
A video (pictured, above) posted on Protect Stapeley Facebook page showed traffic driving down the footpath to get through the bottleneck, forcing pedestrians including children into the middle of the road.
The school, a self-governing academy, has raised money to buy the land for a car park and secured planning permission more than two years ago.
But the project stalled as various parties wrangled over ownership and legal issues.
Now Broad Lane headteacher Ian Shackleton has written to parents telling them work will finally start over the summer. It's hoped the car park will relieve parking on the road and congestion.
Mr Shackleton said: "The governors will be meeting on Monday and we expect to be able to confirm that all the legalities are in place and that planning conditions have been met.
"We have already appointed a contractor and we expect the work to be carried out over the summer holidays to minimise disruption to the school."
Cllr Rachel Bailey, Cheshire East Council's Cabinet member for children and families, said: "I am pleased to hear a solution is now within reach.
"Cheshire East Council has done all it can to help bring this about by granting planning permission and agreeing a long lease on the land for the car park with a reduction on the amount payable by the school.
"We are pleased to hear the school is now in a position to go ahead with the work.
"Because of our concern for road safety, the council took action some time ago to reduce speed limits and install other traffic management measures outside the school."
But parents remain sceptical after the car plan has already been dogged by years of delay.
One mum Helen Hewitt said: "Hopefully this is not another false start…as we have had many.
"The parents and school have had to fight tooth and nail for any action and the reduced speed limit was to 30, which is still too high."