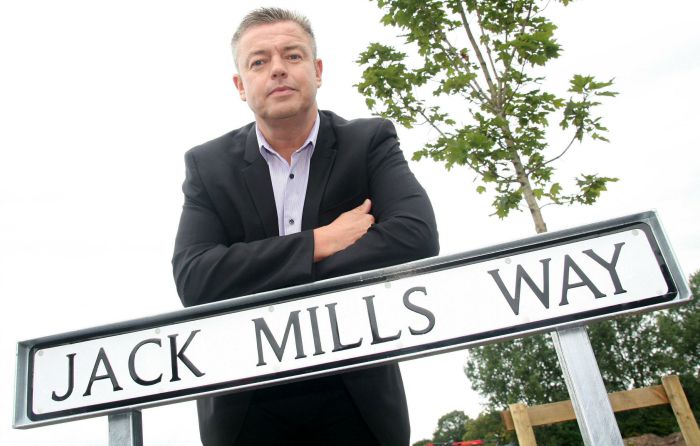 The grandson of a driver attacked in the notorious Great Train Robbery, has described a road naming ceremony in Shavington as a "very proud moment".
Ian Mills unveiled a street sign as part of the launch of Jack Mills Way – the new £7million road linking the A500 at Shavington with Gresty Road in Crewe.
Its name is in tribute to his grandfather Jack, who was hit over the head during the infamous train heist in August 1963.
Jack was the driver along with David Whitby – both from Crewe.
Mr Whitby was also attacked as they bravely resisted the robbers before being overcome by force.
Both men survived but the impact was felt for the rest of their lives.
Now Mr Mills has been remembered with the official naming of the road, which is expected to relieve traffic congestion in and around the town.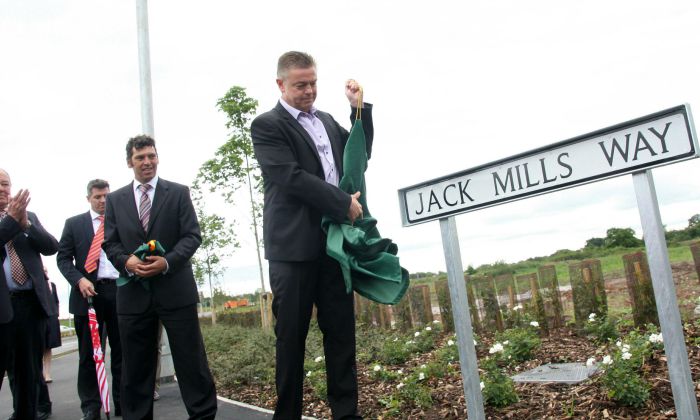 Ian said: "It was a very proud moment for myself and the rest of the family to honour my grandfather in this way.
"It has taken a long time for this to be recognised, 52 years in fact.
"Along with the naming of a railway engine 'Driver Jack Mills' back in December 2014, it is fantastic for the family and our friends.
"It is just a shame my dad is not around to see it."
Crewe and Nantwich MP, Edward Timpson cut the ribbon at the ceremony before lorries from Morning Foods drove along the route as the first to officially use Jack Mills Way.
Cllr David Brown, Deputy Leader and highways portfolio holder at Cheshire East Council, said: "It was under terrible circumstances that Mr Mills become known to so many.
"But I am delighted we are able to pay tribute to him in some way, and to do so in his home town.
"The road itself is excellent news as it will provide improved local and strategic links to Crewe and Nantwich as well as the A500 and M6.
"It will ease traffic on the existing roads in the area and offer relief to other routes into Crewe, such as the A5020 and Weston Road.
"It also opens up 35 hectares of employment and housing sites on Crewe Commercial Park, which is expected to create more than 2,000 jobs and boost the economy by an estimated £40m."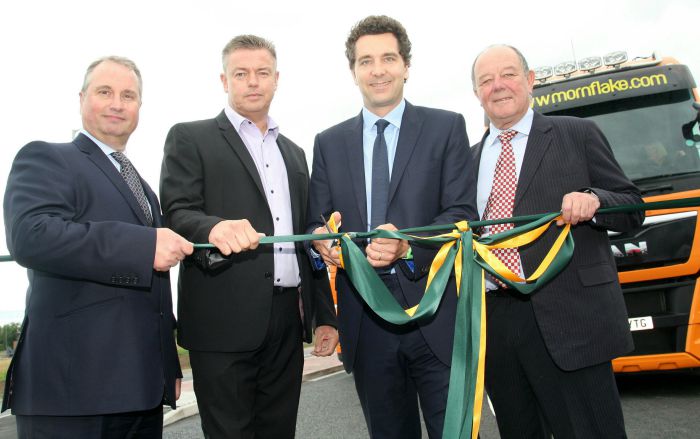 Ian Pritchard, development director at Goodman UK Logistics, said: "We hope these improvements will continue to attract businesses and employment to the site.
"Crewe and the wider North West region has become a significant economic hub over the past few years thanks to a mixture of public and private investment.
"We look forward to any new announcements in the delivery of HS2 and the Crewe hub station, which would no doubt further improve the region's infrastructure and help to the make the idea of a Northern Powerhouse a reality."
The council said it intends to pay tribute to David Whitby with the opening of the Crewe Green Link Road.