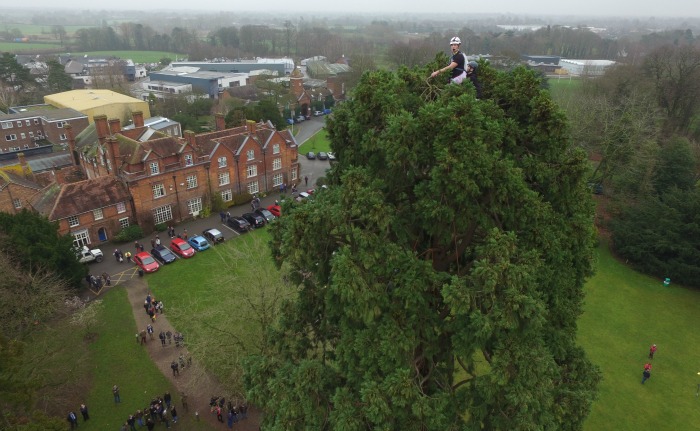 Reaseheath College arborist Twm-Tegid Brunton hit the high notes by singing Christmas carols from the top of a 100ft high redwood tree.
Twm, wearing a fairy skirt over his safety harness, is a member of the North West Welsh Opera Choir.
And he sang three carols in English and Welsh from his lofty perch above the Nantwich campus.
He was supported by fellow former students Rob Hassall and George Gresty.
All three completed their diploma in Forestry and Arboriculture at Reaseheath in the summer and now work in the industry.
Twm runs his own forestry and arboriculture service while gaining engineering skills at Reaseheath.
Rob is a self-employed tree climber while George works for a large tree surgery firm.
The three friends held their high-rise carol concert to raise funds for the Disaster Arborist Response Team (DART).
DART trustee Jonathan Finlow, an assessor at Reaseheath, supported the effort alongside course manager Alan Mottram.
Jonathan said: "This was a fantastic effort by Twm and his support team, and by all the staff and students who helped and donated to our charity.
"DART is still only 18 months old but we have already achieved so much.
"We have minimal overheads and great sponsors for most of our kit, so all donations go directly to helping deploy a team to be of use in a disaster zone.
"As well as raising funds, we had the bonus of enjoying some unusually positioned festive songs."
Twm has raised more than £600 towards his target of £1,000 for DART. You can donate at https://www.justgiving.com/Twm-Brunton/