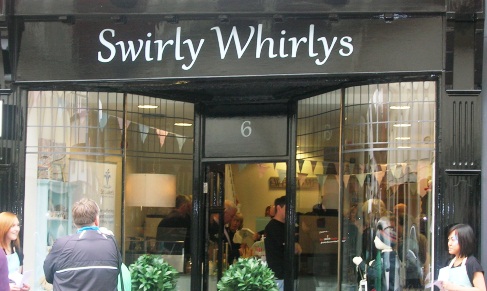 A charity shop opened by St Luke's Hospice in Nantwich is to close less than five years after opening – because it is not raising enough money.
Swirly Whirlys, on Pillory Street, which specialises in crepes and ice cream, will close in March, it has been announced.
The charity outlet was opened in October 2012 by Crewe and Nantwich MP Edward Timpson.
St Luke's hoped it would provide the Winsford-based hospice with another valuable source of income.
But an announcement on the Swirlys Facebook page today (February 8) said: "Our staff and volunteers have worked really hard to offer customers new and exciting things, and our crepes have certainly been popular!
"However, Swirlys was opened to raise money for St Luke's Hospice and unfortunately not enough is being raised, this means we will close at the end of March.
"We are so sad to be closing and leaving Nantwich, but happy that you have been part of our journey.
"Thank you for the memories! We hope you will continue supporting St Luke's in other ways."
Scores of people have expressed disappointment at the closure on social media.
Diane Moore said: "We don't come very often to Nantwich but when we do this is where we love to pop for a cuppa and cake.
"It will be a shame for Nantwich and all the customers and St Luke's. Keep supporting this great hospice."
And Helen Gould, who volunteers at the shop, added: "Speaking as one of the many volunteers who work at Swirlys, its a very sad time for us too.
"It's been a great experience with lovely colleagues and customers."
Three floors of the traditional Edwardian building were converted when the premises was first opened five years ago.
It provides space to relax, and offers a peaceful walled garden at the back.
As well as serving fresh food, it offered a range of gifts and treats to buy.
Swirlys attic on the top floor sold quirky vintage offerings.
It was felt at the time that being located in the heart of the town it would thrive.