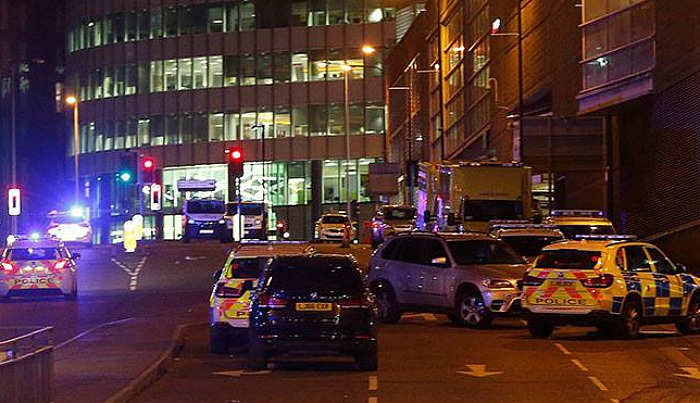 Nantwich and Crewe families caught up in the terrorist attack in Manchester which killed more than 20 people, spoke of their horror today.
Police say 22 people were killed and 59 injured in the suspected suicide bomb attack at the Manchester Arena last night at the end of the Ariana Grande concert.
Many of the near capacity 21,000 audience were from South Cheshire, including Helen Tew's 15-year-old son Aubrey, a Malbank School student, and girlfriend Ella.
Helen, from Wistaston, was waiting outside the main entrance to collect them when the explosion happened.
She said: "It was dreadful. I can't even imagine to send your child to a concert and for this to happen.
"I was walking through the main entrance to the arena when Aubrey called and said there had been an incident and he and Ella had run as far away as they could get.
"I had no idea at that point it was a bomb, but then I saw police everywhere, roads were cordoned off which meant I could not get to Aubrey. I felt helpless.
"I knew something serious had happened – kids were running, crying and shouting to each other, looking for friends, parents.
"We ran around the to the Northern Quarter and found him safe, thankfully. But it's only really sinking in."
Aubrey described how he and Ella heard the explosion as they were leaving the main auditorium and heading down the stairs towards the foyer.
"We were about 4 or 5 blocks from the blast, but the building shook and everyone stopped in their tracks," he added.
"I wasn't sure if it had a piece of equipment like a speaker blowing up or something.
"Then we saw smoke, and people running back around and up the stairs screaming and crying, so we knew something was seriously wrong.
"We saw a man on the ground with a coat over him. I just said to Ella we need to run away from that area and we headed in the opposite direction towards a different exit."
Edward Timpson, Conservative Parliamentary Candidate for Crewe and Nantwich (MP 2008-2017), said: "My thoughts and prayers go out to the families and victims who have been affected by this horrific attack in Manchester, and I know local people will share that sentiment.
"Many of us attend concerts and other events at the MEN Arena, and there were doubtless families from Crewe and Nantwich there.
"I have suspended my general election campaign, and my office is open as usual should anyone require assistance.
"The Greater Manchester Police website is being updated regularly with the latest information and contact numbers."
Police say the lone male attacker, who died in the blast, detonated an improvised explosive device.
Greater Manchester Police Chief Constable Ian Hopkins said it was "the most horrific incident" Greater Manchester had ever faced.
He said the "fast-moving investigation" was now working to establish whether the attacker "was acting alone or as part of a network".
Relatives are using social media to hunt for missing loved ones, and an emergency number, 0161 856 9400, has been set up.
Sixty ambulances attended the incident and those wounded are now being treated at six hospitals around the city.