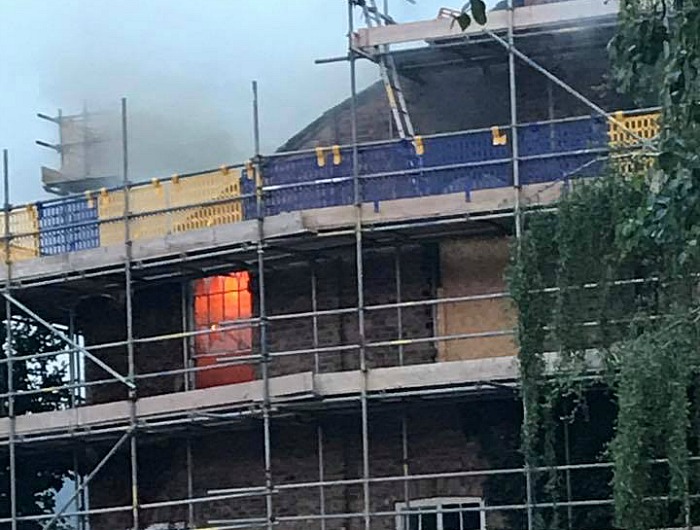 Developers renovating the former Nantwich Methodist Church believe arsonists sparked the fire which ripped through the top of the building.
The blaze broke out at around 9pm in the Grade II Listed building on Hospital Street where work is underway to turn the old Wesleyan chapel into luxury apartments.
Emergency services had to close off Hospital Street as they brought the fire under control.
Now the boss of the main contractor, working for developers Regenesis Ltd, has revealed how they suspect arsonists as the site has been plagued by gangs of youths and vandals in recent months.
Mark Mason, who runs Xtrend Ltd, said: "It's very likely not accidental as there are no electrical or gas services at the rear of the building and we have no materials there likely to spontaneously combust.
"One of our team is on site, it's very much suspected arson. I would say from teenagers and we have passed names over to the police of lads we have caught on site in the past.
"We have had a number of minor incidents with vandalism and teenagers climbing scaffolding and gaining entry, however, to date these have been minor.
"I believe a group of lads were seen running from site just before the fire started tonight.
"An appeal for information would be appreciated."
A spokeswoman for Cheshire Police told Nantwichnews: "Officers were called by Cheshire Fire & Rescue Service shortly after 21:30 on Monday, 19 June to reports of a fire at a former church on Hospital Street in Nantwich.
"Enquiries are ongoing with Cheshire Fire to establish the cause of the fire."
Mr Mason said they had been hoping to complete the development by early 2018.
"It's been a very challenging project in terms of its complexity," he added.
"We have 42 steel piles and 32 tonnes of steel frame in there that the apartments are constructed around… maintaining the original timber features such as horseshoe balcony, windows etc.
"But we were doing well and on programme."
The building, built in the 1800s, ceased being used as a church in 2009 when the congregation moved across the road to the former School Rooms.
(pictures courtesy of Nantwichnews readers)