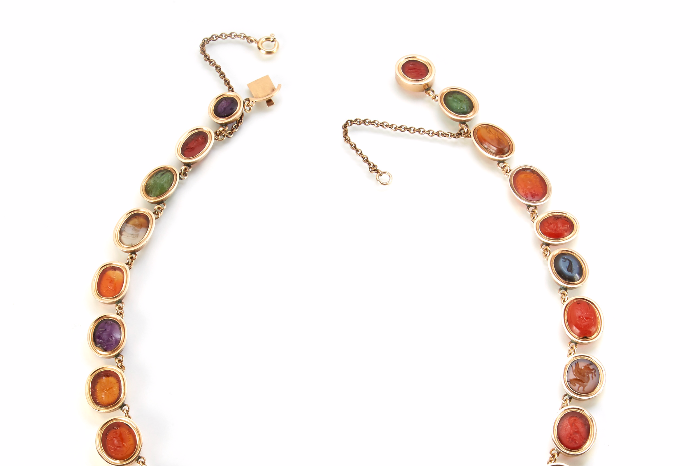 A Roman necklace sold for a whopping £28,000 at a remarkable auction in Nantwich.
Countless bidders on the internet, on the phone and in person at Peter Wilson auction house on Market Street witnessed the sale of the important Roman intaglio-set necklace.
It eventually went to a collector bidding by telephone from his home in Hong Kong.
The necklace had been sent for sale by a Staffordshire man who had inherited it from his mother, an avid antiques collector.
She had taken it to the Antiques Roadshow some years ago where experts valued it at £15,000.
Nantwich auctioneer Robert Stones said: "The necklace was made up of 27 Roman intaglios, all authenticated as being mostly from the 1st century AD.
"It is most usual to find one intaglio set into a signet ring or perhaps four turned into cufflinks but to have so many together, all set as a necklace in gold, was something to celebrate.
"The auction was incredibly exciting – no one knew where the bidding was going to stop."
The 27 carved semi-precious stones were probably acquired by someone making the Grand Tour in Italy.
They had been selected to portray animals and plants and had been arranged in a necklace, the sizes carefully matched graduated, sometime in the 19th century.
In the Roman Empire every important man wore a carved intaglio ring.
It was his 'badge of office' and proof of his social standing, used to sign and seal documents.
When pressed it into hot wax, his preferred family symbol carved into the face of a semi-precious jewel was transferred into the seal to prove its authenticity.
Entries of good quality furniture, antiques, works of art and collectors' items are now invited for Peter Wilson's November 22-23 sale.
For further information, contact the saleroom on 01270 623878, or [email protected]