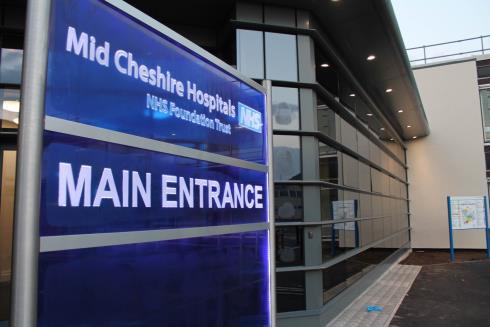 The number of EU staff quitting the NHS hospital trust in South Cheshire is on the rise, latest figures show.
Mid Cheshire Hospitals NHS Foundation Trust (MCHFT), which runs Leighton Hospital, is among just 29 in the country that have seen both a rise in EU staff leaving and a fall in EU staff joining.
In 2016-17, 8.5% of staff who left the trust were EU workers.
That's compared to 6.3% in 2015-16 and 5.8% in 2014-15.
Meanwhile, the number of staff being recruited from the EU by MCHFT has also fallen compared to previous years.
In 2016-17, 6.1% of staff joining were from EU countries.
That's compared to 8.7% in 2015-16 and more than 10% in 2014-15.
That means MCHFT is one of only 29 trusts where both the proportion of EU employees joining has fallen in consecutive years, and the proportion of EU employees leaving has also grown.
Many fear the figures, provided by BBC Local News Partnership, could be caused by the Brexit vote persuading EU staff to quit their jobs in the UK and return home.
NHS Employers have said the vote to leave had created "significant uncertainty" for the 58,000 EU nationals working in the health service.
And the NHS Confederation has warned if a significant proportion leave, the sustainability of quality services would be jeopardised.
Katie Petty-Saphon, Chief executive of the Medical Schools Council, said: "The Medical Schools Council welcomes the announcement of 1,500 new places in England most of whom will enter the workforce as junior doctors in 2024.
"If EU doctors leave the NHS in increasing numbers, these additional numbers will not plug the developing gap in experienced staff.
"An additional pressure is that the NHS urgently needs an influx of new, UK trained, doctors to address the demands of an ageing population.
"Any loss of EU doctors will only exacerbate this problem."
The Nursing and Midwifery Council said: "In July, we released data that showed since March 2016 our register has started to decline.
"There has been a decrease in nurses and midwives joining our register and increase in those leaving, with the widening gap between leavers and joiners most prominent among UK nurses and midwives."
A Department for Health spokesperson said: "There are 3,193 more EU nationals working in the NHS than at the time of the referendum – we have been absolutely clear that these staff play a vital role in the NHS and want to see their excellent work continue long after the UK leaves the EU.
"However, we recognise the NHS also needs more home-grown staff, so we'll be training we'll be training an extra 1,500 doctors and 10,000 nurses, midwives and allied health professionals a year by 2020 to ensure the NHS has the workforce it needs both now and in the future."
Nantwichnews has contacted MCHFT for their comments and are still awaiting a reply.