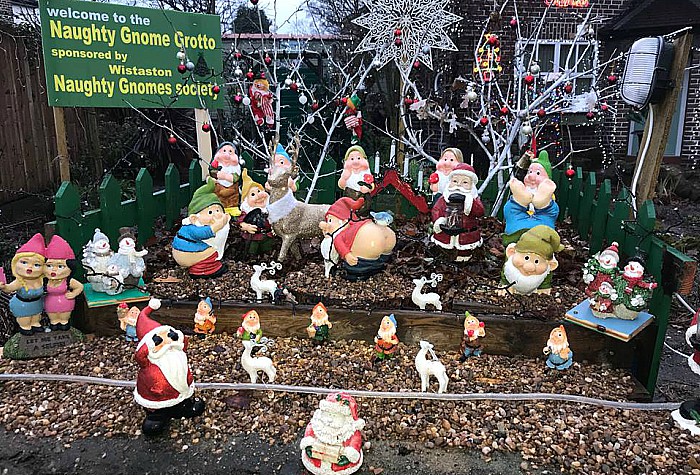 Cheeky mooning gnomes in Wistaston who made international headlines, have made a Christmas comeback!
This family of friendly characters have taken up residence outside gnome fan Laurence Perry's home on Westfield Drive.
The 'Naughty Gnomes Grotto' was put together by Laurence.
Scores of the fun characters in the grotto were donated 'agnomenously' by people who read our original story in the summer about his mooning garden ornaments causing a rumpus among villagers.
Laurence (pictured, right), who carried out gardening work around the village voluntarily for years, placed the cheeky characters at the junction of Park Drive and Westfield Drive, as well as outside his home on Westfield Drive.
But some residents claimed they could 'distract' passing motorists when lit up at night.
It led to heavy-handed highways officers at Cheshire East Council writing to 77-year-old Laurence warning they would be confiscated.
And when we broke the story, it went worldwide, with many accusing the authority of lacking a sense of humour.
Officers eventually took the offending ornaments away.
It sparked a petition to 'Save the Gnomes', led to donations from superstore B&M, and readers posing with gnomes outside local authority offices.
Now Laurence is having the last laugh, after setting up this hilarious 'Naughty Gnomes Grotto' outside his house.
Laurence's daughter-in-law Angela, from Nantwich, said: "Laurence did it all himself.
"Some of them have been "agnomenously" donated.
"Cheshire East Council didn't return the ones they removed.
"We just hope they are looking after them and providing a good Christmas for them!"
The new grotto, which is lit up at night, includes one of the original bare-faced mooning characters.
Other new characters include Santas, snowmen, reindeer, and selfie-taking girls!
The grotto has been sponsored by the "Wistaston Naught Gnomes Society".
We have contacted Cheshire East Council for a comment on the new grotto.