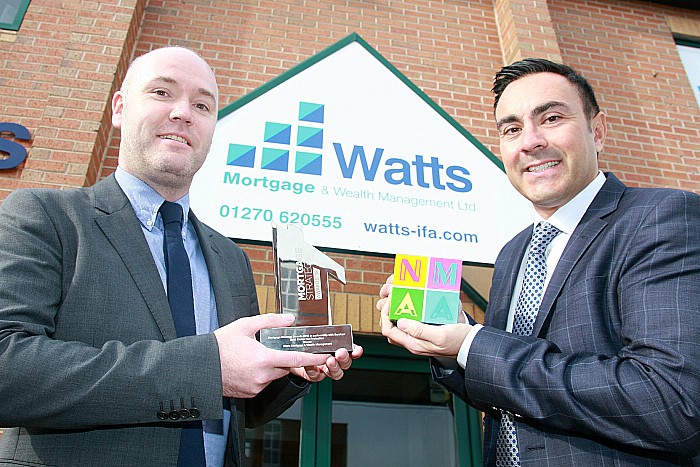 Nantwich company Watts Mortgage and Wealth Management has scooped a second major industry award hot on the heels of being crowned the region's top advisers.
The firm fended off competition from the country's biggest names to the title, Best Broker for Protection, after helping hundreds of people find life and critical illness cover that is right for them and their families.
Watts director Barry Jones received the accolade in front of more than 1,000 people at the Mortgage Strategy Awards staged at the Grosvenor Hotel, Park Lane in London.
He said: "For a local Cheshire company to compete and win at national level, against large household names, is testimony to our great team and relentless focus on what is truly best for our clients.
"We have strived to ensure that the protection advice we give at Watts is of the highest quality standard, and spend a huge amount of time researching and understanding what is quite a complicated market.
"To receive recognition at this national level is a fantastic accolade and makes all the hard work worthwhile."
The firm, on Beam Heath Way, offers advice on business and personal protection.
Protection specialist Mr Jones added: "When I joined Watts four years ago to specialise in protection it became apparent that there was a real gap in the marketplace for high quality advice.
"I have spent the last few years unravelling the differences in contracts and complex underwriting that relates to differing medical conditions.
"Your health is your most important asset in life yet so many people will spend on material goods and not make provision to protect their financial position should they no longer be able to work or run their business through ill health.
"I've made it my mission to raise awareness of critical illness cover to protect our clients from such a devastating blow and am confident that advice we offer is second to none."
The award comes three months after Watts was named Best Adviser in the North West at the National Mortgage Adviser awards, attended by more than 900 people in London.
In the past year Watts has arranged more than £300m of lending to the commercial and residential sector, representing 10% growth.
Managing director Andrew Watts said: "We work hard to help our existing clients to arrange competitive mortgages and for new clients to achieve their dreams of owning their own home.
"To win two major industry awards makes us very proud and underlines our dedication to providing excellent customer service."
For more information on services call Watts on 01270 620555 or visit www.watts-ifa.com