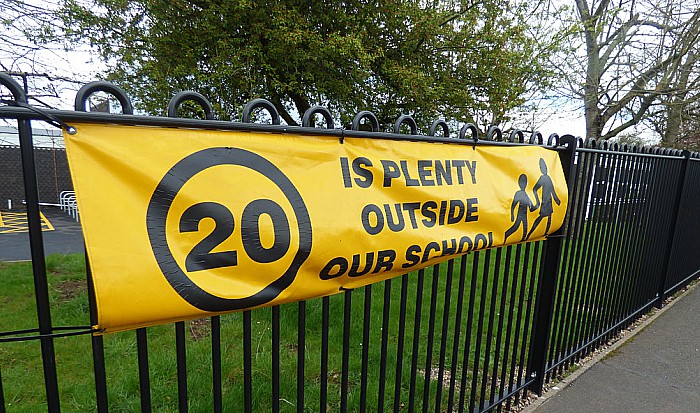 Cheshire East Council insists it has no immediate intention of introducing mandatory 20mph speed limits despite renewed calls to boost road safety, writes Stephen Topping.
National campaign group 20 is Plenty – which has local branches in Nantwich, Crewe, Congleton, Sandbach, Wilmslow and Bollington – is again urging the council to lower the speed limit in built-up areas.
Advisory 20mph speed limits have been rolled out outside schools across the borough since November 2015, but Rod King MBE believes that this doesn't go far enough.
The Cheshire-based founder of 20 is Plenty is calling on Cheshire East to follow its neighbours Cheshire West and Chester Council and Warrington Borough Council in slowing down traffic.
Mr King said: "CEC had the chance to do it a few years ago but they decided they would put advisory limits up for some of the time in some places, and they spent £1 million doing it.
"We think the 20mph limit shouldn't just apply for when a child is going to and from school.
"It should cover them on the streets that they live, when they are walking to the shops, visiting their grandparents or going to the park."
Latest statistics show 10 child pedestrians and one child cyclist were either killed or seriously injured on east Cheshire's roads in 2016, while 31 pedestrians and 27 cyclists were either killed or seriously injured.
Mum-of-two Florence Collier was a spearhead for the 20 is Plenty campaign in Wilmslow when it previously pushed CEC to introduce 20mph speed limits in 2015.
She is 'disappointed' that CEC hasn't followed other authorities in introducing the lower speed limit, and is considering stepping up the campaign for safer roads once again.
"People think differently about different things but CEC has not at any point come back and told us that things are working fine as they are," she said.
"At the council meeting where CEC decided on the advisory limits they said it was just a perception problem, but I don't think that's what the statistics show.
"If it is a perception problem then it is keeping people from walking and cycling, because they don't feel safe."
Cheshire East has confirmed it has no immediate plans to introduce mandatory 20mph speed limits across the borough – although it will keep an eye on the issue of speeding along with police.
A spokesman said: "CEC has completed its three-year programme of advisory 20mph speed limits in the vicinity of 160 schools across the borough.
"We recognise the importance of encouraging lower vehicle speeds in urban areas and their effect on reducing the seriousness of injuries through collisions.
"The council has no current plans to install blanket 20mph zones across the borough, but we will continue to review and work together with the police in considering a range of options available in locations where excessive speed has been identified as an issue, in line with our speed management strategy."
(pic under creative commons licence by Elliott Brown)