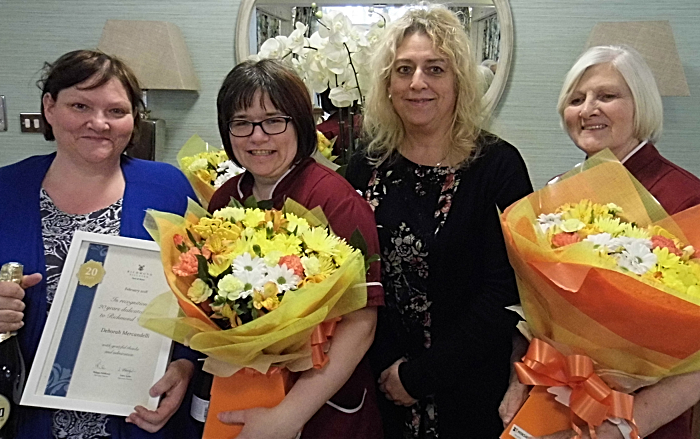 Three members of staff at Richmond Village Nantwich have been recognised for achieving a total of 60 years' service.
Margaret Williams and Rebecca Reade, part of the housekeeping team, and hospitality manager Debbie Mercandelli have each been awarded 20-year service certificates, flowers and champagne.
Making the presentation was village manager Lynne Griffin, who has already reached her own 20-year anniversary!
Debbie said: "It is amazing just how quickly the years have passed.
"There have been many changes in that time, not least Richmond Villages becoming part of BUPA, while our village remains a place we are all very proud to work."
Margaret added: "The past 20 years have gone in a flash – I have lots of happy memories from taking part in pantomimes to competition days.
"There really is never a dull moment!"
Pictured, left to right, are Margaret, Rebecca, Lynne and Debbie.
Meanwhile, St Luke's Cheshire Hospice in Winsford has been chosen by the residents and staff of Richmond Nantwich to be their nominated charity for 2018.
Supporters of the charity were able to enjoy visiting the hospice's own cafe in Nantwich before its recent closure.
Now Richmond Villages are hosting their own quarterly afternoon teas in their Garden Room to help raise funds for the 10-bed hospice.
These have proven popular, with the first two raising more than £1,200.
The next one is on Friday June 8 from 3-5pm at Richmond Nantwich, St Joseph's Way.
The Village presented a cheque for £1,700 to the charity, handed over by Richmond Nantwich resident Barbara Jackson, whose husband was cared for by St Luke's.
Tickets are now on sale for the June event, costing £10, available from the Village Reception, St Luke's shop in Pepper Street Nantwich or at the Hospice.