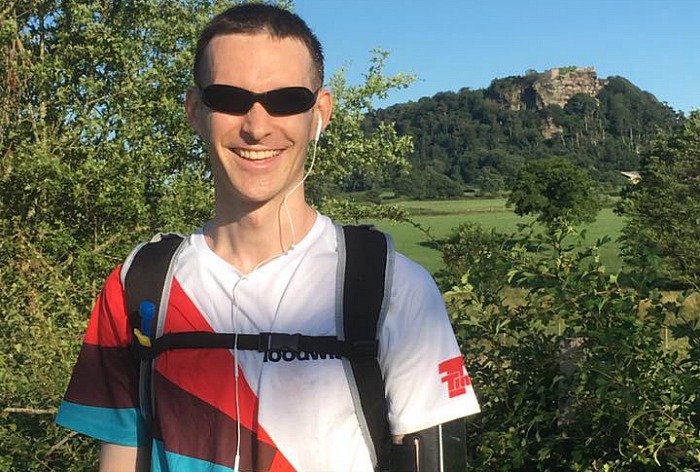 A Willaston man is midway through his gruelling charity attempt to complete 10 Marathons in 10 Days!
Paul Dean, 37, is attempting the 262-mile challenge coast to coast in aid of Bloodwise blood cancer charity, in memory of his dad and two friends who died of leukaemia.
Dad-of-one Paul set off from Skegness pier on the east coast on Friday May 25, and is bidding to reach pier of Llandudno on Sunday June 3.
Leg 8 will see Paul setting off from his home in Willaston on Friday June 1, and passing by Nantwich Town's Weaver Stadium at about midday.
It will see him travelling west through Lincolnshire, Nottinghamshire, Derbyshire, Cheshire, Flintshire, Denbighshire and ending in the North Wales resort.
Paul said: "I've been aware of leukaemia for most of my life.
"A childhood friend suffered from the illness.
"As a kid I obviously had no idea how serious it was – I knew Mark had the illness and that he went on regular trips to hospital, but I didn't know why.
"He always seemed fine to me. He was funny, he made me laugh.
"I can remember exactly where I was when I heard he'd died. I can remember being in shock – I always assumed Mark would be okay and that leukaemia wouldn't get the better of him. I was wrong."
Fifteen years later, Paul's dad began to feel unwell, losing weight and struggling to sleep at night.
"Eventually he went to see his doctor who ran some tests. While we were waiting for the results I went on a weekend away with my Sunday League football team," added Paul.
"We played a couple of matches, although I think only Will played every minute of both games.
"Will was like that, a bit of a machine. No big deal though, he just got on with it.
"After we got back home we played another game a few days later. Will wasn't there. We'd heard he was ill but that was all we knew.
"As it turns out, within a few days I was driving my dad to Manchester Royal Infirmary for his first transfusion after his leukaemia diagnosis.
"Will was already at the hospital and was suffering with a much more aggressive form of the illness.
"Over the next few months there were highs and lows, bouts of chemotherapy, bone marrow donation, trips home and hospital stays.
"There was always hope, alongside a feeling of being useless. I couldn't do anything to help my dad or my friend."
Fifteen months after diagnosis, doctors said his dad's condition had deteriorated and there was nothing they could do.
He died 10 days later. Four months later, Will also lost his battle.
"I couldn't do anything to help them, and I can't do anything to bring them back.
"But I can do something that might help somebody else.
"So I suppose that's why I'm running – so I don't feel so useless. I hope it helps."
Anybody who would like to donate, visit https://www.justgiving.com/fundraising/runningpeeps3