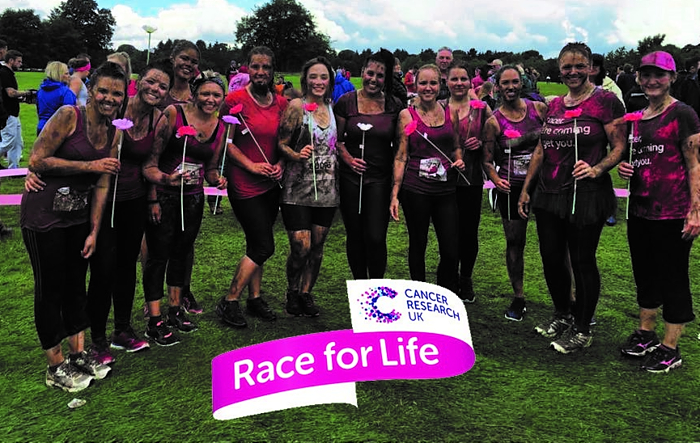 Female colleagues from the South Cheshire office of Financial Planning firm 1825 are donning pink T-shirts and trainers for their third Pretty Muddy challenge.
Work pals from the firm's office on Crewe Business Park will take on a 5k obstacle course as part of Cancer Research's Race for Life event at Cholmondeley Castle, near Nantwich.
The team has raised £1,500 for the charity by taking part in the event at Tatton Park over the past two years.
Now they are set to crawl through mud, slip down slides and clamber over inflatables again in the name of the cause.
Stephany Powell, one of the 1825 team, said: "Pretty Muddy is a fantastic event to be part of and a fun way to raise much-needed funds.
"Everyone has been touched by cancer one way or another and we decided a couple of years ago we wanted do something.
"We started off with a group of 12 in 2016 and now 15 of us have got together to do it this year."
The challenge will take place against the picturesque backdrop of Cholmondeley Castle on July 21 as part of a nationwide series of women-only events aimed at raising money to beat all 200 types of cancer.
The event is open to women and girls over 13 keen to support the charity drive of 'fun, friendship and fundraising' by walking, running or even dancing their way across the course.
Stephany added: "Pretty Muddy brings us together as a team raising money for a great cause.
"It's our first time at Cholmondeley Castle which has amazing views but we have no idea how difficult the obstacles will be.
"The last one is always a giant inflatable slide. By then we are soaked in mud so it's very slippery but all help each other up.
"The camaraderie between everyone taking part is wonderful and there is so much support from family and friends.
"Coming away from the event is always funny, too, as we cover ourselves in bin liners so we don't dirty our cars!"
Dave Williams, regional managing director of 1825 Crewe, said: "Our whole team in 1825 are behind them, and with the company's 'Raise and Match' fundraising initiative, we can add up to £250 of the total raised.
"To date the team has raised over £1,500 and we all wish them luck in adding to that total."
Donations can be made through the team's Just Giving Page and https://fundraise.cancerresearchuk.org/page/1825-crewe-pretty-little-mudders