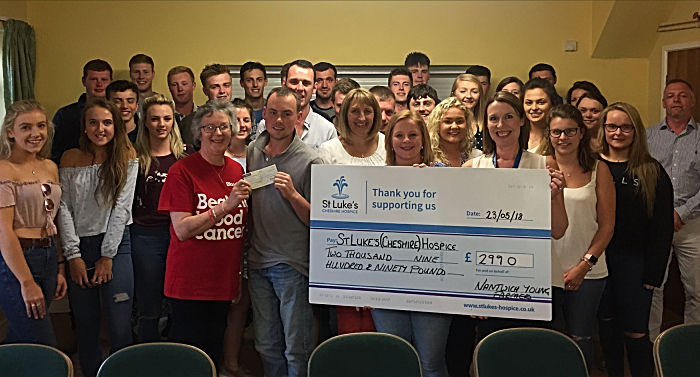 Nantwich Young Farmers have handed over almost £6,000 to charity raised during its popular Panto.
The club's 'Puss in Boots' production at Acton Parish Hall helped them collect £5,980 for two charities, Bloodwise and St Luke's Hospice.
A cheque for £2,990 was presented to Liz Boffey, from Bloodwise (South Cheshire).
And a cheque for £2,990 was presented to Angela Slack, from St Luke's (Cheshire) Hospice, prior to the Nantwich Young Farmers'Club's annual general meeting at Acton Parish Hall recently.
Liz Boffey said: "Bloodwise South Cheshire are indebted to Nantwich Young Farmers Club for the magnificent sum of £2,990.
"All monies raised go directly into research of all 137 Blood Cancers and as the local Branch of Bloodwise, it is wonderful to receive this generous donation within our area.
"Blood Cancer affects children, so it is particularly appropriate that young people have supported us in this way.
"Thanks to the amazing support of the young farmers, we remain committed and will continue to enjoy their excellent pantomimes!"
And Angela Slack added: "We are incredibly grateful for the continued support of the Nantwich Young Farmers' Club.
"Their annual pantomime is not only a fabulous family event but has also raised an amazing amount for patient care at our Hospice over the years.
"Thank you to everyone who supported this event."
(words and pic by Jonathan White)