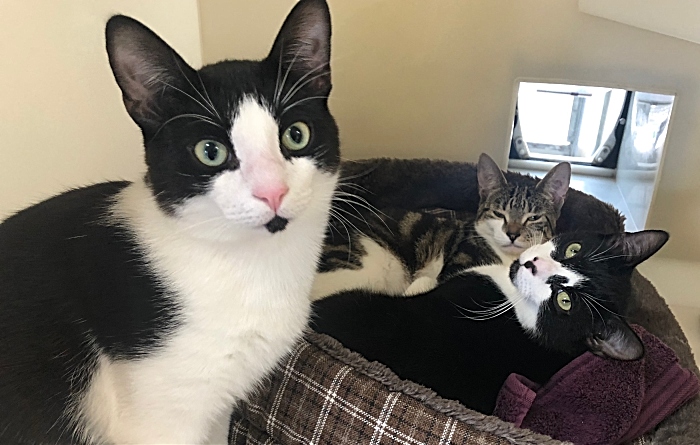 Staff at Stapeley RSPCA centre in Nantwich who reunited three feline siblings are now seeking a new home for them.
Ezra, Otto and Wilma were signed into the RSPCA's care in March after coming from a multi-animal household.
Ezra and Otto went to Stapeley Grange while Wilma, who was pregnant, went to the charity's Greater Manchester Animal Hospital.
But Wilma could not cope well without her two brothers and her siblings were very timid without her, so staff at Stapeley Grange decided to reunite the trio.
Four months later, the two-year-olds are still waiting for a new home to call their own.
Joyce Mellor, deputy manager at Stapeley Grange, said: "These three have such a strong bond that we want them to be rehomed together – we don't want them to be separated again.
"It is very rare that we have three cats who we want to rehome together – this happens about once every three years.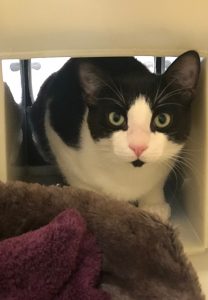 "We find that many people look to adopt one or two cats and very few people come into our cattery wanting to rehome three, but we know that there is somebody out there who will take these on.
"They are very lovely cats, they are quite timid but they have got used to our staff very quickly so we're sure once they are settled into their new home they will
flourish.
"We have only had a couple of inquiries about them so far but unfortunately we're still waiting for the right owner to adopt them."
If you think you could offer a home to Ezra, Otto and Wilma, you can get in touch with Stapeley Grange by calling 0300 123 0722 or email [email protected]
The centre is also appealing for animal-lovers with the required experience to apply to hand-rear kittens due to a shortage of volunteers.
Joyce added: "It is a lot of work but it is also rewarding and that makes it all worth it.
"We would like a list of people who we can call on when we have young kittens brought into us, but our list is small and we would like to grow it.
"We are ideally looking for people with past experience of working with cats and we will provide an additional training as and when required."
Currently, the cattery has three young kittens in its care who are being hand-reared by an RSPCA inspector.
The three black kittens, aged three weeks old, were found abandoned but are now thriving.
"We are in the midst of kitten season right now, which is why we urge cat owners to get their pets neutered to avoid unwanted litters," added Joyce.
"It is important that people get their cats neutered as early as 10 weeks old old to avoid unplanned litters of kittens who sadly can end up dumped like rubbish, much like these unlucky babies."
Anyone interested can pop into the cattery on London Road, Nantwich, anytime between 11.30am to 3.30pm every day except Monday.
Anyone who would like to support the vital work of Stapeley Grange can donate online at www.justgiving.com/campaigns/charity/rspcahq/stapeleygrange