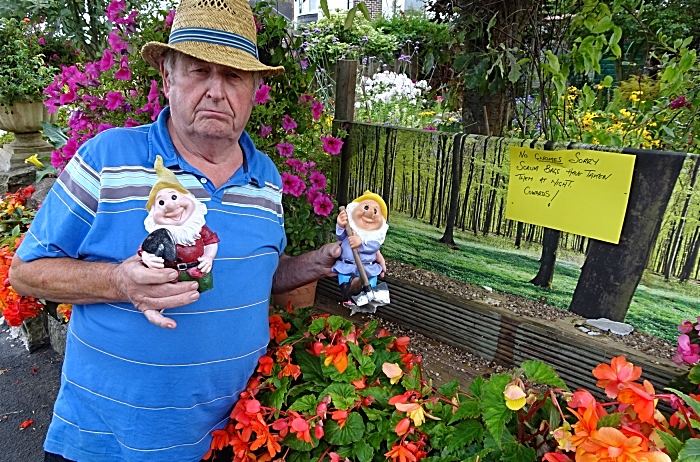 Angry villagers in Wistaston have rallied in support of a pensioner after mindless vandals destroyed his popular garden gnomes display, writes Jonathan White.
Laurence Perry's gnomes, which became famous a year ago after a dispute with the local council, have proved a big hit with residents.
But thugs targeted the display outside his home on Westfield Drive this week, with 25 of the cheeky characters being smashed or stolen from his garden and land in front of his house.
All Laurence's gnomes were superglued to a wooden base panel and ten were either smashed or stolen from a wooden shelf at the front of his garden.
Another 15 were destroyed or stolen from a wooden base around a tree on land in front of his house.
The 78-year-old is a keen gardener and has been a popular character in the village, helping to add floral colour and fun to local displays.
So villagers angry at the vandalism have rallied in support.
A local builder has already donated two 4ft "Mr & Mrs" garden gnomes, local residents have donated gnomes, and Christian Davies from Alan Davies Car Sales in Crewe has offered to sponsor new gnomes.
Laurence said: "It is sad that people's enjoyment of the gnomes has been destroyed by one or more persons unknown.
"However, good has come from bad as I have already received replacement gnomes from generous members of the public.
"If anyone else would like to donate a gnome to me then you are welcome to drop it off at my house on Westfield Drive in Wistaston.
"I thank everyone for their continued support."
Laurence said he previously had one gnome stolen, but it was safely returned by the guilty party the next day.
He believes that this incident was a targeted attack by one or more individuals, but has no idea who would bear a grudge against the gnomes or himself.
The gnomes made national and international news last year when Nantwich News exclusively revealed how Laurence had been threatened by Cheshire East Council for displaying a 'mooning' gnome!
A complaint prompted the council's heavy-handed approach, claiming the mooning gnome on the roadside could cause a safety issue for distracted drivers.
Our exclusive received worldwide publicity including the BBC, Daily Mail, Express, Mirror and Telegraph along with newspapers in India and the USA. https://www.bbc.co.uk/news/uk-england-40644575
(story and pictures by Jonathan White)