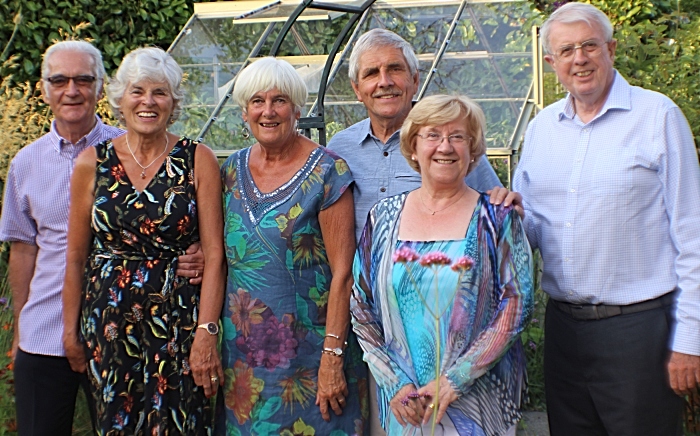 Three young badminton players netted more than they bargained for when teaming up with a trio of ladies to play mixed doubles.
For the three couples ended up courting off the court – and are still married 50 years later!
Donald Potter, Bill Kynaston and Ray Harding all joined Hightown Congregational Church Badminton Club in Crewe as teenagers in the 1960s.
The three "novices" were invited to team up with three ladies – Carole Whittaker, Carol Stockton and Eileen Lester – to play mixed doubles in a Hightown Ladies v Scholar Green ladies fixture.
"It was made very clear to me that I had not been selected because I had use of a large car!" recalls Donald, 73, from Nantwich.
"We might have won but I can't remember but I never looked back and have been an ardent badminton supporter/player/coach/umpire/ coordinator ever since."
Two years after their first mixed match, the three 'courting' couples were invited again to play a mixed match against RAF Tern Hill.
And despite defeat, lifelong relationships over raquets, nets and shuttlecocks were forged for good.
"In the next few years we all became engaged to our respective partners," said Donald.
"Then in 1968 we were all married!
"And this year we have all celebrated our golden wedding anniversaries and have the photos to prove it!"
Donald got married to Eileen, 72, and they had two daughters and still live in Nantwich and play at the club.
Bill, now retired aged 72 and from Crewe, tied the knot with Carole, 71, and they had two boys.
And Ray, 72, married Carol, 70, and went on to have three children before moving to Loughborough. Ray is still an active badminton coach.
Retired Bill said: "We all started playing badminton in the early 1960s at Hightown Congregational Church in Crewe, which later became the Limelight Club.
"The club was really a section of the church known as the 'Young People's Guild' and attracted mainly the younger generation.
"A quirk of the Hightown court was that it had a very low ceiling which meant that, unable to lift the shuttle, we learned to played a very 'flat' driving game.
"It stood us in good stead in later years when playing mixed badminton with the ladies.
"I remember the first match we three 'novice' men played in was as ladies in a ladies match at Scholar Green village hall!"
In late 1968, all three couples were married and Ray and Carol moved away to Loughborough.
Donald and Eileen, and Bill and Carole formed their own team called the 'Monday Club', using a court at Ludford Street School in Crewe.
They switched to Shavington Sports Centre when that opened.
Bill and Carole also joined a club known as 'Crewe West End' which moved to the newly opened Ruskin Sports hall at Ruskin School in Crewe. Bill was chair of the club for a number of years.
"Carole and I played in the 1st team and later the Veterans team," recalls Bill.
"Carole played in the Ladies team all with considerable success. She represented the Crewe and District League in a match at Chester Northgate Arena. We finished our playing days at the Ruskin Club in our late 50s after more than 40 years in the game."
Ray, 72, and Carol, 70, lasted even longer in the game after moving to Loughborough, where they joined Loughborough Badminton Club.
Both started playing for Leicestershire County Badminton team, and Ray was county captain in 1983.
He started playing in Veterans Tournaments in 1994, won several and represented England in the European Championships in Dresden and Sophia, and also the World Masters in Vancouver.
He stopped playing in 2016 after a third right hip replacement.
In 2017, Ray and Carol were made Honorary Members of the club.
(Pic: Left to Right: Ray and Carol Harding, William and Carole Kynaston and Donald and Eileen Potter)