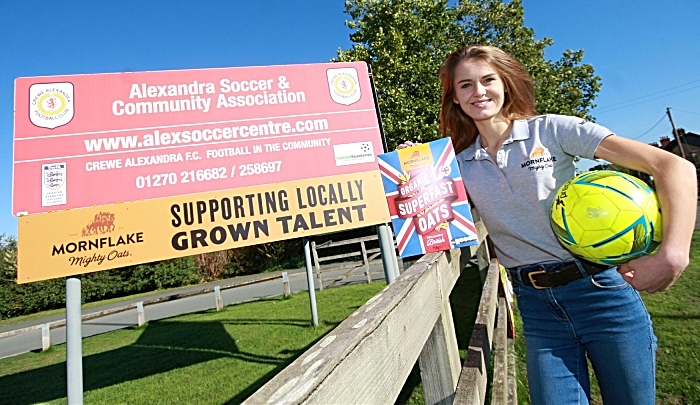 Breakfast company Mornflake has unveiled new branding at the Alex Soccer Centre in Shavington as it flies the flag for the Mighty Oat and its home in South Cheshire.
The firm has been a long-standing supporter of the facility where more than 4,000 children are coached in their football skills every week.
Earlier this year, Mornflake launched a rebrand of its oat-based products, trademark orange lorries and signage at its Gresty Road mill in Crewe.
New hoardings are now in place at the centre which it supports as part of an on-going mission to promote exercise as part of a healthy lifestyle.
Marketing manager Richard Jones said: "Throughout the Mornflake story you will find initiatives which encourage people to eat oats for good health and exercise in any way that they enjoy.
"The Alex Soccer Centre encourages children to develop a life-long love of exercise and it is our pleasure to be supporting the centre for another year."
The centre on Crewe Road has encouraged thousands of local youngsters to play football since it was founded in the 1980s.
It is used for soccer training by schools throughout South Cheshire and is home to a mini soccer league of 70 teams.
It also runs Saturday and school holiday football sessions.
Operations manager Melvin Bates said: "Mornflake is a much-loved local brand, their signage brightens up the centre.
"The company was first to come forward with a donation when we had a leaky roof a couple of years ago and needed help to cover repair costs.
"We thank Mornflake for its continued sponsorship and support of football in the community."
Mornflake's online 'Mighty Oat' campaign tells of people who run, hike, swim or take part in extreme sports fuelled by a bowl of its energy-boosting products including porridge, muesli and granola.
The firm's roots in Cheshire are celebrated throughout the campaign and on its products and signs on main roads into Crewe.
The company employs more than 300 people from across Crewe and Nantwich and is a top sponsor of the UK Triathlon event staged in Nantwich.
(Pic below: Mornflake ambassador Sian Williamson and Alex Soccer Centre operations manager Melvin Bates unveil the new signage)