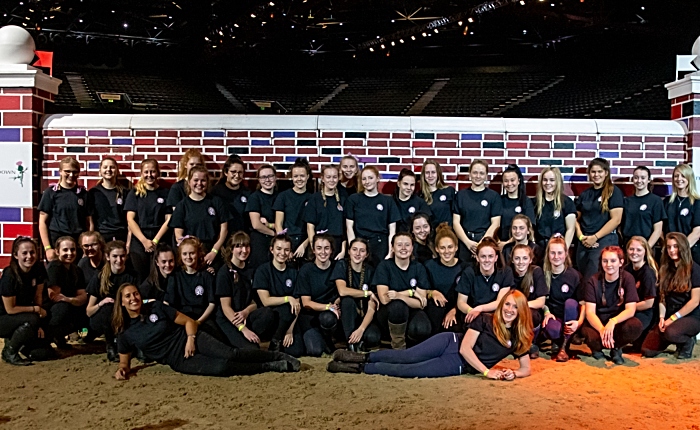 Reaseheath College students in Nantwich have provided a key service to the Horse of the Year Show (HOYS), the world's most famous horse show.
A team of 38 Level 3 Diploma students supported the international show jumping course designers and other displays for the eighth consecutive year at a five day action-packed programme.
And the students, from the college's Nantwich campus and partner Croft End Equestrian Centre near Oldham, received two days of training on health and safety and emergency drills alongside vets and paramedics to add to their CVs.
Students met elite riders, trainers and performers as they supported world class show jumping, dressage, showing, Pony Club mounted games, scurry driving and equine entertainment.
The students were thanked for their professional service in front of a packed audience each night and the team has already been invited back for HOYS 2019.
Reaseheath's assistant principal Sarah Houghton said: "The great thing about HOYS is that the students get to work with top course designers and see all the action from the front.
"They also build great teamwork skills and have an amazing week which they'll remember for the rest of their lives."
Course designer Bob Ellis said: "Yet again, Reaseheath's arena party has been exceptional and has helped us to put on a superb show.
"They are absolutely brilliant in the speed they operate and the responsibility they take.
"Let's be fair, we couldn't put on this show without them."
Students Charlotte Campbell and Annabelle Hodnett, who met top showjumper John Whitaker among other top professionals, said: "We've had an amazing time.
"The opportunity to join the arena party was part of the reason we came to Reaseheath.
"It's been an amazing experience and we've made friends and memories that will last a lifetime."
Reaseheath equine students also provide the arena parties for other prestigious events including Bolesworth International.
View Reaseheath's video of the show, below:
Visit here for details about Reaseheath's equine diplomas and degrees