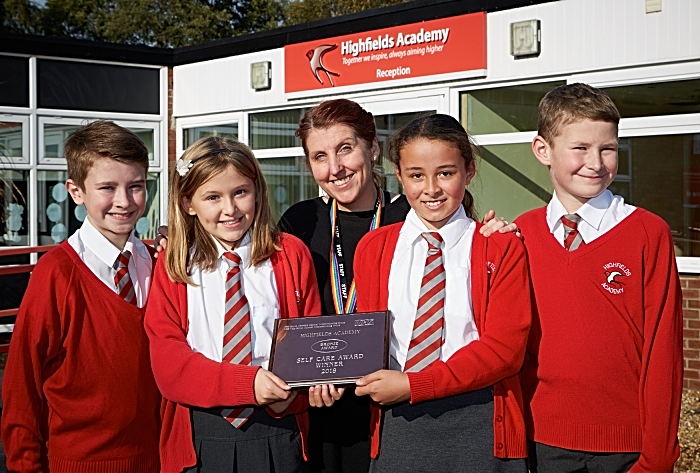 Highfelds School in Nantwich has earned top marks for helping to raise awareness of NHS Self Care options among local families.
It is the first school in Nantwich town centre to achieve a Bronze Self Care Award from the NHS South Cheshire Clinical Commissioning Group.
Now the Academy-status school on Cumberland Avenue is going for silver in a scheme which signposts families to the national health helpline 111 and to self-referral services such as physiotherapy and counselling.
Teacher Amanda Cooke, the school's Self Care Champion, said: "We believe it's important to encourage families to take good care and embed Self Care messages in our school community.
"Some people are unaware they can self-refer to a counsellor, for example, instead of taking the traditional route of calling their surgery and waiting for a GP appointment.
"Pharmacists also run the Minor Ailments Service and offer much more than just prescriptions.
"We took this message to our school fair where we had a Self Care stand for visitors to chat to us and take away information.
"This included what to have in your medicine cabinet, when to visit the GP and details on the Common Approach to Children's Health (CATCH) NHS app."
To earn silver, the school must demonstrate its commitment to healthy lifestyles.
It's already staged a session for children to become aware of basic first aid and has welcomed a local GP to talk about diet and exercise.
It's well on the way with its commitment to sport with thriving football, netball and hockey teams as well as 'just dance' sessions when youngsters cut some shapes to their favourite pop songs.
Headteacher Simon Dyson said: "The award is more good news for the school which celebrated its £1m revamp with an official reopening last month.
"There's a great buzz about the building and we have been delighted to hear from several prospective parents."
Creativity is strong across all age groups.
Pupils are currently making Armistice poppies from recycled plastic bottles and are swapping recipes for a Children in Need 'Bake Off' event on November
23 when cakes will be sold for the appeal.
Prospective parents are welcome to look round facilities. Call the school on 01270 371196 or visit www.highfieldsacademytrust.co.uk
(Pic: Highfields Self Care Champion Amanda Cooke, with school well-being ambassadors Oscar, Nala, Sophie and Alfie)