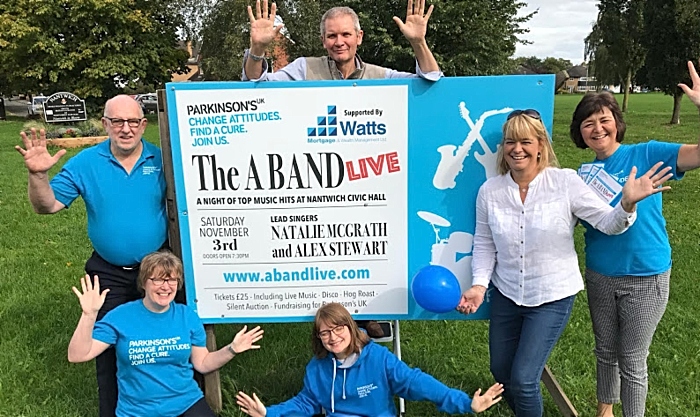 The Crewe & District Parkinson's UK team has raised an amazing £5,600 at a fundraiser at Nantwich Civic Hall.
Sue Pickup, vice chairman of Crewe and District Parkinson's UK, was helped by family and committee members in putting on the show.
It featured the A Band and lead singers Natalie McGrath and Alex Stewart.
The A Band is ranked among Britain's premier function bands with a 9-strong line up of musicians.
Sue said: "As well as generating vital funds for Parkinson's UK research, these events help raise awareness and fund the activities we organise to support local people affected by Parkinsons.
"This was our fifth event since 2010 and this year we sold 240 tickets.
"Following the success of the night we already have plans ready to fund research projects and sessions on mindfulness and physiotherapy.
"I would like to thank local sponsors CTC Healthcare, Right at Home and Watts Mortgages and supporters who donated items for our silent auction which in total raised £2,700, with prizes including a VIP tour of Bentley Motors, a framed photo and signed glove by Gordon Banks and a signed McLaren cap."
Anyone affected by Parkinson's, further information about the branch is at www.crewe-parkinsons.org.uk
(Pics by Sue Pickup – Top:  Committee members and Sue's family Mark Greenhalgh, Graham Pickup, Sue Pickup, Carole Salmon, Jessica Pembroke, Lesley Greenhalgh; Below: Sue and Graham Pickup and Carole Salmon organisers of the A Band Live)