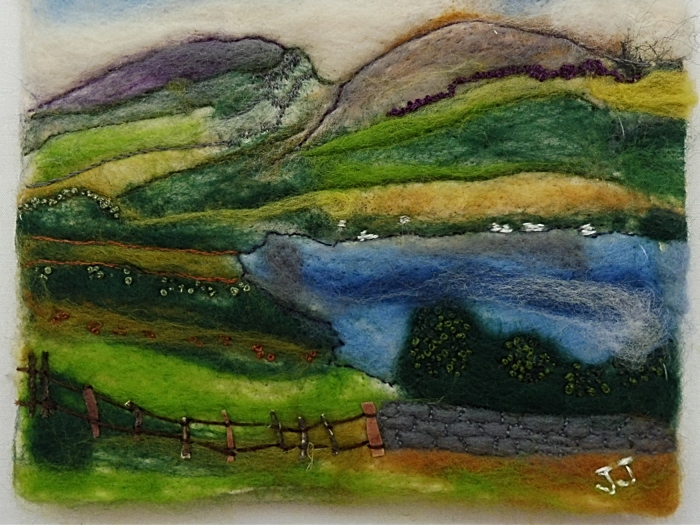 "Inspired by – – ", an exhibition of contemporary textile art by local group Intastitch, has opened in the Millennium Gallery at Nantwich Museum and will run until Saturday March 16.
It displays a wide range of influences, interests and techniques used in textile art.
Many pieces are a collage of mixed media, dyeing, machine and hand stitch, applique and reverse applique.
There are diaphanous hangings on transparent backgrounds, interpretations of waterfalls, landscapes including views of the Lake District in needlefelt, wet and nuno felt.
Also silk paintings of flowers, birds, fruit and large quilts, all worked by hand on hand dyed recycled fabric.
Intastitch is a group of contemporary textile artists based in east Cheshire who share, explore and develop their art together.
Members bring to the group a variety of life experiences including teaching, interior design, speech therapy, architecture, mathematics, social work, computer sciences and farming.
They are inspired by their different backgrounds and environments, which are reflected in the exhibition, including where they live, a garden, a holiday – or just the wow factor of a sunset, waterfall, shell, a figure, an amazing structure, space or colour.
The group adopted its name in 2014 and has taken part in a number of exhibitions
Entry to the museum and exhibition is free and the artwork is available to purchase.
For further information contact Nantwich Museum on [email protected] or telephone 01270 627104, visit www.nantwichmuseum.org.uk, https://www.facebook.com/nantwich.museumoffical/ or https://twitter.com/NantwichMuseum