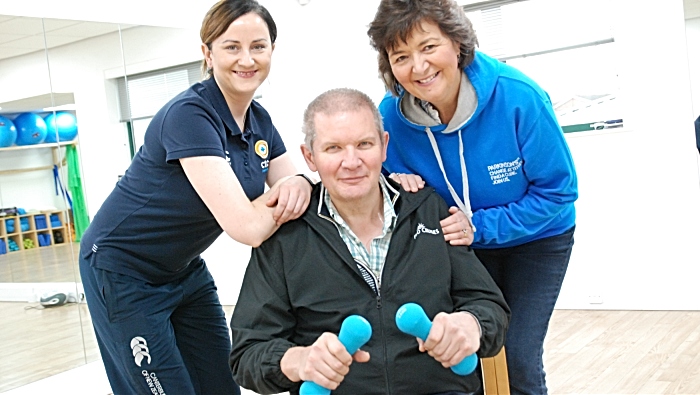 Health and wellbeing specialists have teamed up with a Crewe and Nantwich charity to support people living with Parkinson's.
Physiotherapists at ctchealthcare in Nantwich have launched chair-based exercise classes designed to help slow down symptoms of Parkinson's while being motivational and fun.
Class leader Adrianna Hynowska said: "Doing exercise can help slow down the progression of symptoms and manage other physical symptoms such as sleep problems, mood and mental health.
"Exercise is known to be beneficial. For those whose symptoms are complex, seated exercise is highly recommended."
Hour-long classes are staged every Wednesday at 2.30pm at ctchealthcare's clinic on Beam Heath Way, Nantwich.
They involve stretching and raising dumb bells to strengthen the core as well as movements to improve posture.
Susan Pickup, vice chairman of Crewe and District Parkinson's UK, said: "We are delighted that ctchealthcare is leading the way with classes specifically aimed to support local people living with Parkinson's."
Mrs Pickup's husband Graham, a retired accountant, was one of the first to undertake a class.
Mr Pickup, 58, was diagnosed at 43 and the couple, from Haslington, encourage younger people to come to their group meetings at Minshulls Nursery and social gatherings at the Duke of Gloucester pub, Crewe.
She added: "People think Parkinson's is a condition which only strikes older people but it can be any age and as a group we offer friendship, support and information."
ctchealthcare is a South Cheshire-based physiotherapy and wellbeing provider caring for both private patients and employees in corporate settings up and down the country.
For more information on chair-based exercise call the Nantwich clinic on 01270 361363 or visit www.ctchealthcare.co.uk
For more information on Crewe and District Parkinson's UK go to crew-parkinsons.org
(Pic: Physiotherapist Adrianna Hynowska with Susan and Graham Pickup of Crewe and District Parkinson's UK)