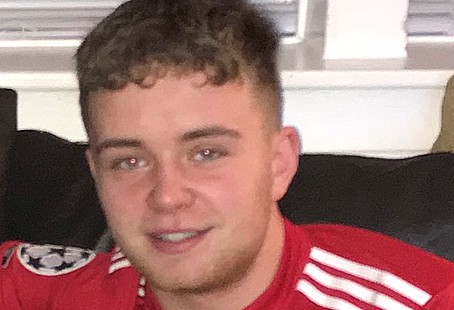 Grieving families have hit out at thieves after graveside ornaments were stolen in Nantwich Cemetery.
Two families have come forward to highlight their losses – and there are fears many more graves have been targeted.
Donna Clayton spoke out after treasured personal items on her son Josh's grave were stolen at the Whitehouse Lane cemetery.
Josh (pictured), from Wistaston, died aged just 19 in a road accident near Chester a year ago.
Two other men – Darryl Smith, 29, and Sean Broomhall, 24 – were also killed in the incident.
"He would have turned 21 on March 20 so I went to his grave to put balloons and fresh flowers/plants as making his resting place beautiful is the only thing I can do for my son," said Donna.
"When I returned on Saturday (March 23) I realised someone had stolen nine lights.
"I'm absolutely devastated someone thinks it's okay to disturb my son's resting place, and according to how many times my post on Facebook has been shared and commented on in 24 hours so is half of Crewe/Nantwich!
"I want to make others with loved ones resting at Whitehouse Lane cemetery aware to keep and eye out for grave thieves.
"I have now replaced the nine missing lights and hope they don't get stolen again."
Tish Cliffe also had items stolen from the grave of her mum Beryl Hilton, including treasured garden ornaments and lights that used to be in her mum's garden.
Beryl, from Nantwich, died aged 84 when she was a passenger in a car which collided with a lorry on Nantwich Road, near the Old Manor pub, in September 2017.
She was flown to Royal Stoke Hospital, but passed away from her injuries two days later on Saturday (September 9).
Tish said: "They all came from my mum's own garden as she collected frogs and loved them.
"I never thought anybody would stoop so low and steal them. Heart breaking.
"I just want people to be aware this is happening and for them to remove anything off their loved ones graves that they would be heart broken if stolen."
A Cheshire East Council spokesperson said: "The theft of personal possessions left at a graveside is to be deplored and would be extremely distressing for family members. Thankfully, these incidents are rare.
"Cemeteries are public places and families visiting the graves of loved ones, leaving flowers and small items of sentimental value, should feel free to be able to do so without the fear of having them stolen or damaged.
"To prevent such thefts would mean introducing inappropriate and intrusive measures and the council can only appeal to the public to report incidents of theft to the police and the council's arms-length company Orbitas, which manages the council's cemetery and cremation services.
"We are sorry to hear of these thefts.
"Cheshire Police advise that any thefts should be reported to them on the non-emergency number 101."