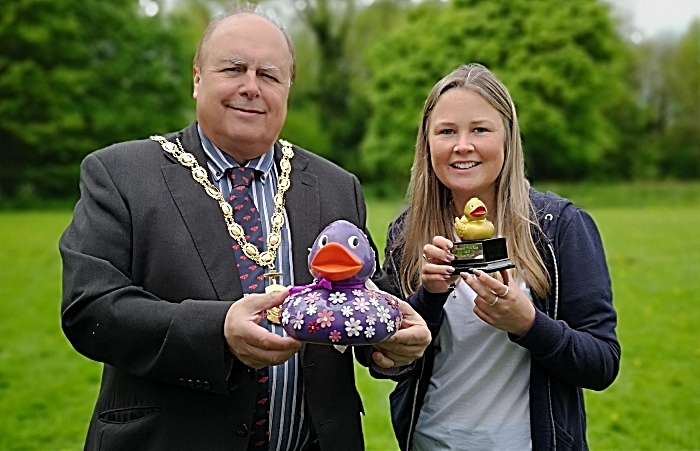 Nantwich Town's first duck race on Mill Island sent hundreds of people quackers with delight – and helped raise £1,800 for hospice!
The event was organised by Nantwich Lions in aid of charitable beneficiary, Hope House.
Ducks of all shapes and sizes – some in fancy dress – raced along the River Weaver in Nantwich as children and parents packed out the banks to watch.
The winners were Best dressed:
1st place – KMT Farming and consultancy
2nd place – Return on Investment, Nantwich
3rd place – Debbie Bilotta with 'Duckchess'
Fastest large duck – Elmscot Nursery, Nantwich
Little duck winner: Heat 1 – Williams Tew. Heat 2 – Mrs Minshull
Cllr David Marren, who attended the event with his grandchildren, judged the best dressed duck in his final duty as Nantwich Town Mayor.
He said: "The duck race and judging was a great family fun event and to make sure I judged the three best dressed ducks fairly I let my three grandchildren, Maddie, Maizie and Hattie help me.
"Letting three children choose a best dressed duck was easy, putting them in order, from first place to third, is when relationships are tested."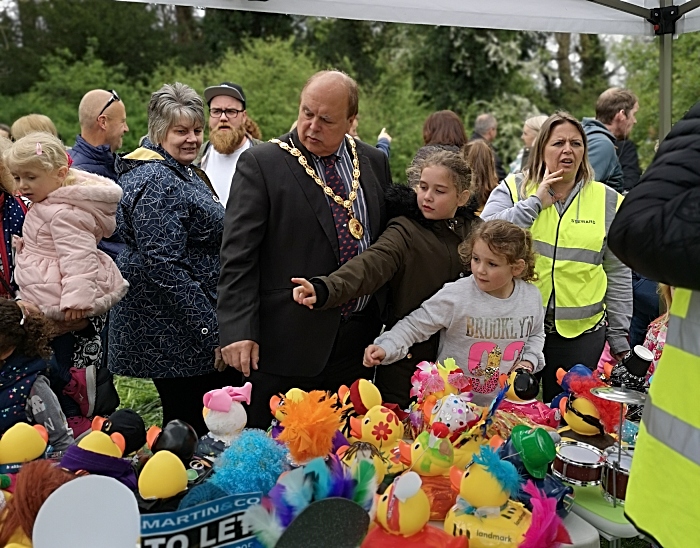 Nantwich Lions Club President Jonathan Welford added: "We are delighted our first Nantwich Duck race has been such a terrific success – this is a fantastic achievement for a brand new club.
"We're over the moon that the people and businesses of Nantwich turned out in such large numbers to help us raise money for a great cause."
Area Fundraiser for Hope House, Hannah Robinson added: "It was such a lovely fun event, and we're so pleased everyone enjoyed the day.
"Huge thanks to everyone who has taken part, Councillor David Marren for judging the ducks which must have been a hard job, and special thanks to the Nantwich Lions club for organising and running this event, it would not have happened without all involved."
Elmscot Day Nursery and Nursery School Nantwich took home the golden duck after winning this year's Nantwich Duck Race.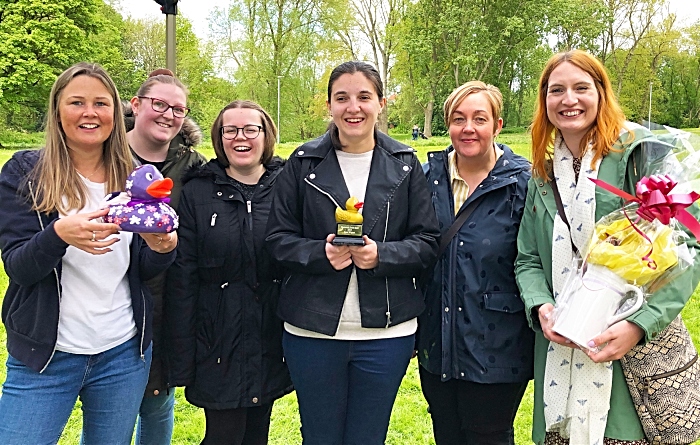 Named specially by the nursery staff, Elmsquack became the fastest duck of them all.
Leann Banks, Nursery Manager at Elmscot Nantwich, said: "We're delighted to be the winners of this year's Duck Race.
"We love getting involved with the local community and it was great to see so many people there to support the event.
"Hope House Children's Hospice is such an incredible cause, supporting local families in Nantwich. We were extremely pleased to be able to donate and show our support."