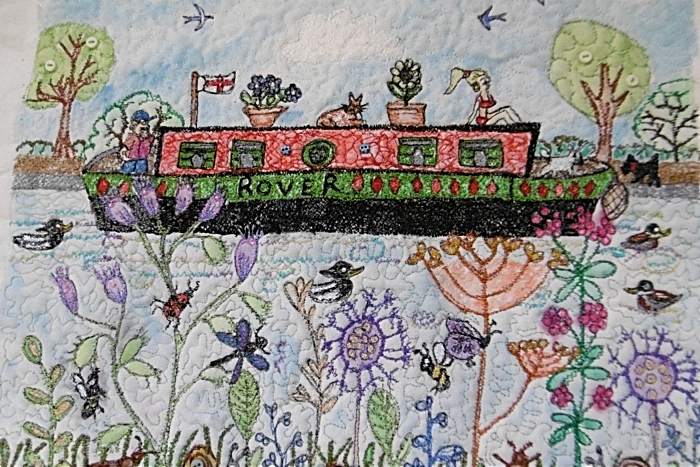 A "Castles and Roses" exhibition by textile and art group Threadmill has opened in the Millennium Gallery at Nantwich Museum.
The exhibition, which runs until August 3, was inspired by the busy life around the Shropshire Union Canal that runs past the town.
From the time of the Industrial Revolution the canal was busy with transport, the holds of the boats full of products, leaving little space for the families.
To make the small living areas more homely and more colourful a tradition grew up among the boatwomen of decorating the narrowboats and household implements with various designs including castles and roses.
Today, the canals are used for leisure but we can still see boats decorated in the unique style of the canal folk art.
Threadmill members have taken inspiration, investigating the art and crafts, the landscape, flora and fauna and the people and animals that worked and lived along the canal banks and surrounding countryside.
Its work incorporates art techniques from traditional stitching, printing, painting, patchwork, felting and the experimental to exploit the colour and texture suggested by the title of the exhibition.
Entry to the museum and exhibition is free and much of the artwork is available for sale including a selection of cards available from the Museum shop.
Contact Nantwich Museum on [email protected] or telephone 01270 627104, visit www.nantwichmuseum.org.uk, https://www.facebook.com/nantwich.museumoffical/ and https://twitter.com/NantwichMuseum