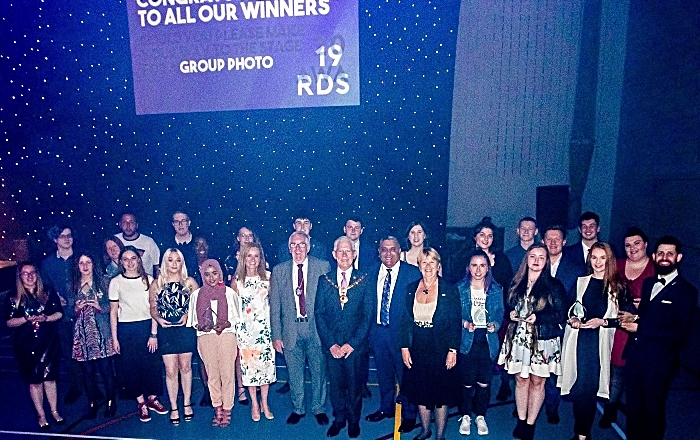 Cheshire College – South & West hosted its second annual College Awards at its Crewe Campus.
The awards celebrate learner success and recognise those who have made a real impression on staff, contributed to college life and achieved academically.
More than 200 guests gathered with more than 25 individual awards presented to learners studying a range of courses.
Award winners and guests were greeted by hospitality and catering learners serving non-alcoholic mocktails and canapés, made by the learners.
Performing Arts learner and singer Jemma Webster began the event with a solo performance.
Guest speakers were entrepreneurs Sid Madge, Founder of Mad Hen and the Meee Programme, who gave a motivational talk about his career journey and his quest to improve people's self-perception.
He was joined by Matthew Pyke, former learner and Managing Director of Fly High Media.
Sid said: "I have loved being part of such a positive celebration.
"The College came to life with amazing people telling amazing stories, which created a wonderful and aspirational environment.
"It is clear these learners have had lasting impressions on tutors across the College and what better way to celebrate them, than with a fantastic awards evening."
Samuel Johnson, 19, from Alsager, won the Harthill Hospitality and Catering Learner of the Year Award, sponsored by Chef Brian Mellor of Harthill Cookery School.
"I was completely shocked when I found out I was receiving the award. My time at College has been enjoyable and being able to work with top chefs like Brian Mellor has been incredible.
"I enjoy working alongside others who are passionate about the same subject areas as me, it's great being able to collaborate and challenge my existing skills."
Brian Mellor added: "It was fantastic to be a part of this annual celebration and to have an Award officially named and sponsored by Harthill is both humbling and inspiring.
"I can't wait to see what the next year of partnership brings!"
Joanna Duraj, 21, from Redditch, won the Higher Education Learner of the Year Award.
She was nominated after she showed determination, motivation, amazing progress and achieved excellent grades across all modules.
Helen Nellist, deputy principal and deputy CEO, said: "It's hard to believe we are already coming to the end of the college year.
"The awards provide us with an opportunity to celebrate success, alongside thanking families, employers and stakeholders who have been incredibly supportive and critical to the learners' success.
"Part of our commitment is to ensure that when learners leave us and progress into employment or university, that they do so, not only with excellent qualifications, but also with skills that will help them to succeed in their chosen careers and throughout their life.
"We are extremely proud of all our learners and wish them the best of luck as they progress in their next steps."
For information on Cheshire College – South & West, call 01270 654 654 (Crewe Campus) or 01244 656 555 (Ellesmere Port and Chester Campuses) or visit www.ccsw.ac.uk