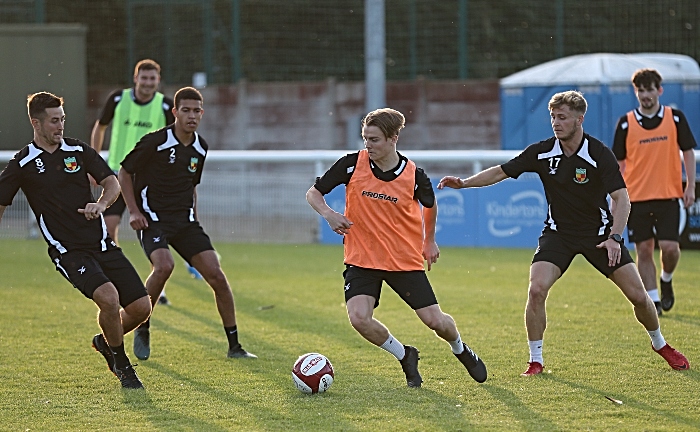 Nantwich Town players are gearing up for the big BetVictor Premier League kick off this weekend.
Dave Cooke has been putting his squad through their final paces before the opening game at home to Gainsborough Trinity this Saturday August 17.
And they'll be hoping for a positive start as they bid to surpass their excellent 2018-19 season, which saw them lead the league at one point only to lose in the play-offs.
The club is also offering fans and local businesses a chance to support further by launching its player sponsorship programme for 2019-20 season.
People have a chance to sponsor their favourite Dabber and guarantee exclusive alignment with that player, and also first refusal on sponsoring that player in future campaigns.
Benefits of sponsoring a player include:
– The name (and/or logo if applicable) of the sponsor will be next to the chosen player profile on the club's website
– The name (and/or logo if applicable) of the sponsor will be next to player profile in every match-day programme
– The chosen player will present the sponsor with their club shirt and photo taken at end of season awards evening.
– A signed Christmas card from your sponsored player
Players already sponsored for 2019-20 include Greg Hall, Troy Bourne, Matty Devine, Josh Langley, Ben Harrison, Joe Davis, Joel Stair, Matt Bell, Sean Cooke, James Lawrie, and Joe Malkin.
Available confirmed players available to sponsor for 2019-20 include:
James Hawkins
Ollie Hawkins
Kallam Boyle
Clayton McDonald (Player-Coach)
Caspar Hughes
Luke Walsh
Will Saxon
Jamie Reed
Joe Mwasile
Niall Cope
Shirt sponsorship is £180 including VAT, with shorts and socks sponsorship priced at £36 and £24 respectively.
Sponsoring a member of the squad's tracksuit costs £90.
For more information, contact club Commercial Director Tim Crighton at [email protected]
(Pics courtesy of Jonathan White)