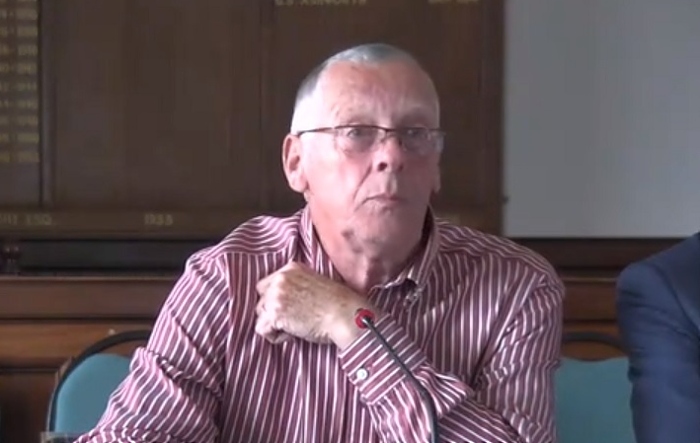 A former police officer who sparked controversy with comments made about rainbow lanyards has been removed from a position he held at Cheshire East Council, writes Stephen Topping.
Bob Fousert was ousted as chairman of the Cheshire police and crime panel after suggesting officers that wear lanyards to support equality for lesbian, gay, bisexual and transgender (LGBT) people were "crossing the boundary" from impartiality into making an "overtly political statement".
Now, Mr Fousert has been removed as an "independent person" at CEC, a position in which he heard complaints about councillor conduct.
Councillors were given the choice of whether to keep Mr Fousert on as an independent person at Thursday's full council meeting – and some councillors wanted to do so.
Cllr David Brown, Conservative, said: "The role that he plays in the police authority is totally different to the role that he plays in the council.
"We have got no negative comments for his performance as an officer of the council."
A number of councillors argued it should not be the role of full council to remove Mr Fousert of his position in public.
Cllr Paul Findlow, Conservative, described it as an "injustice against an individual".
But Cllr Stewart Gardiner, CEC's equality and diversity champion, insisted Mr Fousert had shown "a distinct lack of understanding of 21st century Britain" through his comments.
The Conservative member for Knutsford, who spoke openly about his experiences as a gay man facing discrimination at July's full council meeting, said: "We are not a political organisation, it is not something you choose, you do not choose your sexuality or your gender."
Meanwhile, Labour councillors suggested Mr Fousert had not shown independence by publicly criticising them following the controversy, and therefore they had lost confidence in his ability to continue in the role.
"The complaints process must be impartial in order to give confidence and assurance to members of the public and elected members," said Cllr Sam Corcoran, CEC's Labour leader.
A vote to keep Mr Fousert was defeated with 32 votes against to 27 for, before a vote to remove him won with 33 votes for and 22 against.
Mr Fousert was not presen, but he did speak out against plans to remove him as an independent person when they first put forward at July's full council meeting.
He said: "This motion is political opportunism that is intolerant, vindictive and smacks of a witch-hunt designed to move me and to negate the work I do.
"It is an unfortunate fact of public life today that when someone makes an observation or comment with regards to LGBT issues they are often treated like heretics and either vilified, pilloried or castigated – why is this so?"
The controversy began at a police and crime panel meeting in June where Mr Fousert asked David Keane, Cheshire's police and crime commissioner, whether it was appropriate that Deputy Chief Constable Julie Cooke wore a rainbow lanyard with the phrase 'LGBT+ Ally'.
He said: "Do you consider such an overt political statement to be appropriate for a senior officer to wear, given that the police should be seen to be impartial in all it does?
"This is taking part in politics. I feel that she has crossed the boundary with regards to the very overt statement she is making in wearing that lanyard."
Mr Keane said he was 'deeply shocked' and 'deeply saddened' by the remarks, while Cllr Ant Critchley, Labour CEC member for Crewe Central, claimed he had 'made being gay political'.
Mr Fousert then rejected calls to resign as panel chairman from Mr Keane and some Labour panel members, before he was voted out from the role at a special meeting on July 5 – although he remains a member of the panel.