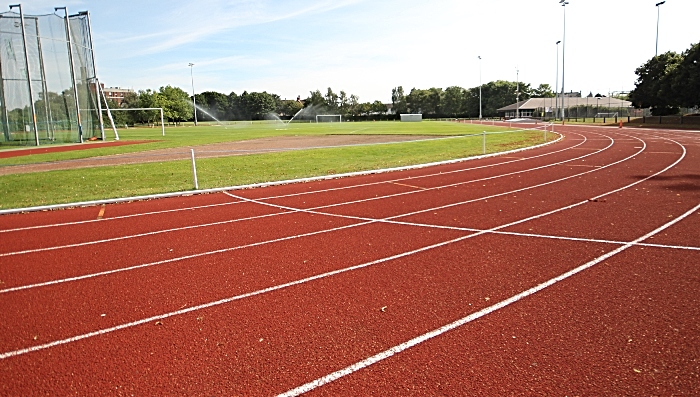 Crewe & Nantwich Athletics Club have been told they can no longer host competitions because of the state of the council-owned Cumberland Arena track.
The news is a blow for the popular club which can host up to six major competitions every year.
Cheshire East Council says a "planned maintenance review" of track found it needs repairs to bring it up to a UK standard to host future competition events.
Community use and training nights hosted by Crewe and Nantwich AC will continue as normal.
Hundreds of junior and senior athletes across Nantwich and Crewe are part of the club and use the track twice a week every Tuesday and Thursday evening.
However, the report found the track requires "localised repairs to its base layer" and is also due for a full resurface.
The club hosts competitions every year including Cheshire league, Youth Development league, and Cheshire Relays.
These will now have to be cancelled or staged at alternative venues.
If Cheshire East approves a budget for repairs, it will bring the track up to a national standard and improve facilities.
A spokesperson for Crewe & Nantwich Athletics club said: "Obviously, this is disappointing in the short term as we have held many successful competitions in the past.
"We hope the work on the track is approved and completed in good time so we can enjoy improved facilities in the near future."
Cllr Mick Warren, Cheshire East Council cabinet member for communities, said: "The council will work to establish the full cost and impact of the necessary repairs, prior to a business case being presented to the council for its consideration.
"The track is still absolutely fine to be used by community groups and our local athletes for training.
"However, it is not up to the highest standards required by UK Athletics for competition use."
The maintenance report was commissioned by Cheshire East as part of planning for budgeting.
The Cumberland Arena is owned by Cheshire East Council and operated by its partner, the independent health and wellbeing charity Everybody Sport and Recreation.